Autumn 2016/17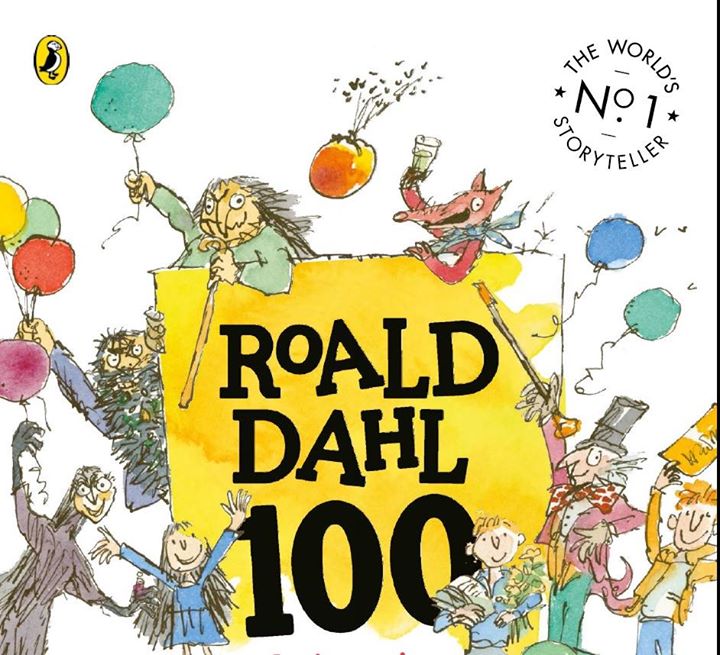 Celebrating 100 Years of Roald Dahl
As a way of celebrating Roald Dahl day, we researched information about him on the internet and wrote our found facts with our partners. In the role of Willy Wonka, we designed, labelled and made chocolate bars. After that we designed our own wrappers too. Finally we got to eat them. Yum, yum, yum! During the afternoon we celebrated the day by having a KS1 assembly where we enjoyed some of Roald Dahl's books and celebrated the activities we did in each of the classes. We also found out who the competition winners were for our KS1 Roald Dahl character competition.
Maths
We try to engage the children practically through maths but do also show them written methods to solve number problems. Our main focus for the first few weeks is to ensure the knowledge of place value is embedded. We will talk about sticks of tens and dots of ones. Please note that the new curriculum referes to 'tens and ones' and therefore does not use the word 'units'. We will then be focusing on counting (2s, 5s, 10s), solving addition and subtraction problems and using reasoning to guide our discussions and decision making.
English
In our English lessons we have started to focus on traditional tales by looking at the story of 'Little Red Riding Hood'. The children have acted the story out, spoken about their favourite part of the story and described the characters. Our main focus has been for children to write detailed sentences using capital letters, finger spaces, full stops and adjectives. The key focuses for year two currently are:
- using capital letters, finger spaces and full stops accurately
- using adjectives productively
- landing letters accurately on the line (giraffe letters should be the tallest lower case letters on the line, monkey letters land on the line but have a tail that comes underneath and tortoise letters are the smallest letters on the line). This is what we use in our lessons: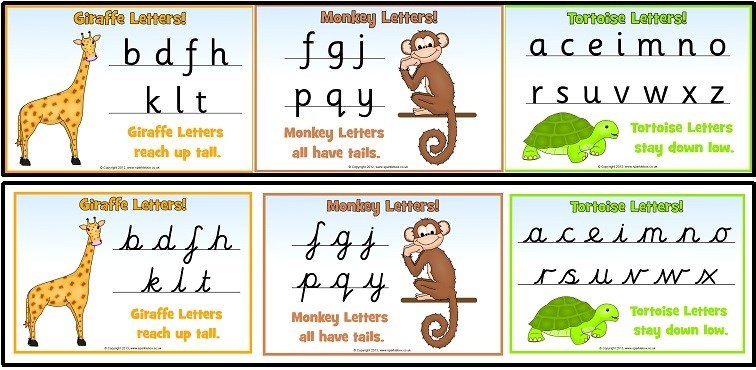 If there is opportunity to practise these key skills at home, please do not hesitate to engage children creatively. Please ensure you read at home with your child as frequently as possible. This may also be with non-school books but with books that are linked to your child's interests.
Now and Then
During this term we will be focusing upon the Victorians and comparing life then with how Year 2 live their lives now. The topic will be cross-curricular and will sometimes link in with our core subjects. We are also scheduled to visit Dunham Massey, during Autumn term 2, to learn about how the Victorians prepared for Christmas. We shall aso be looking at traditional tales and modern versions of them too.
As Pablo Picasso was born whilst the Victorian Era was running, we decided to draw a portrait of Queen Victoria In the role of Pablo, using his specific style and techniques. How great the children's pictures look! We have also looked at Victorian resources and compared which items would be present during the Victorian times and which items would not have been.
D&T and History Day - Tuesday 4th October 2016
During our art and history day, we dressed up like Victorians and made Victorian toys. Some children made peg dolls and some children made a yoyo. We also sang traditional Victorian songs too.
Christmas Carols and an Opera Singer - 13th October 2016
The children were very excited to become singers and record Christmas carols with an opera singer. All classes have recorded a selection of songs and these will be put on to our very own 'Woodheys Christmas Album'.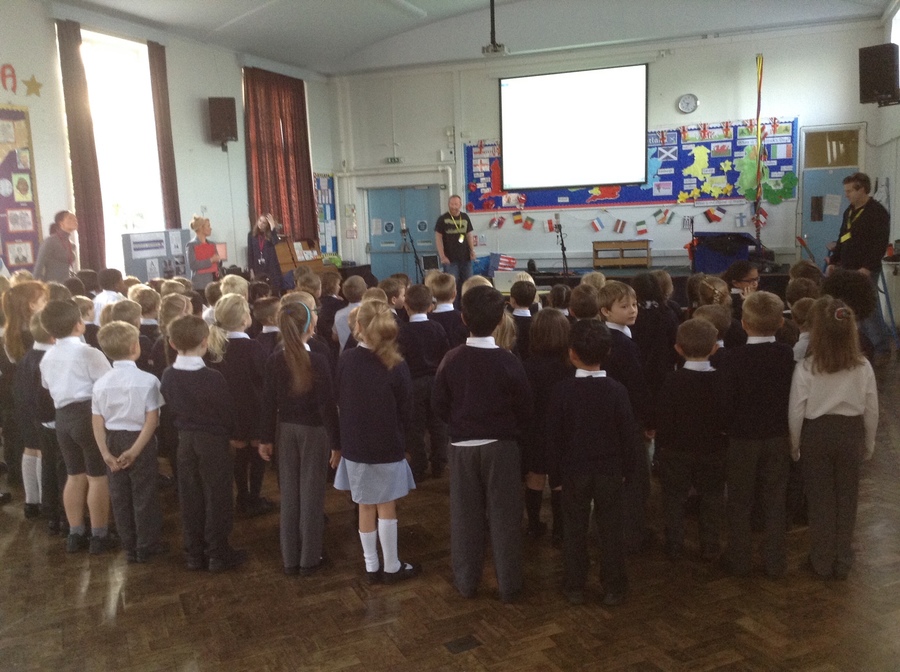 Homework - Autumn 1
What fantastic homework the children have brought in! The homework grid has been a huge success and the children have enjoyed their making, researching and writing. On Monday 17th October the children presented their homework tasks to their peers. How amazing and confident they all were!
Magical Maths and Halloween Disco - 21st October 2016
What fantastic mathematicians we have! The children were able to use their rulers to measure and create their own skeletons. We also had our KS1 Halloween disco where the children came dressed up and danced the party away!
Dunham Massey Trip - 31st October 2016
What a fabulous time the children had on their school trip! The children went to Dunham Massey to experience the life of a Victorian. There were two parts to the day. The first part was based on the children acting as investigators and finding the 'poacher'. The second part was based on the children acting as Victorian servants and preparing for Christmas. The children made Christmas bread, biscuits, crackers, cards, pomanders and present boxes.
Children In Need Day - 18th November 2016
What a fabulous time the children had wearing their own clothes! The children brought in donations to raise money for children who are less fortunate . We have many kind and thoughtful children in our school. Thank you once again to all parents for supporting this special day.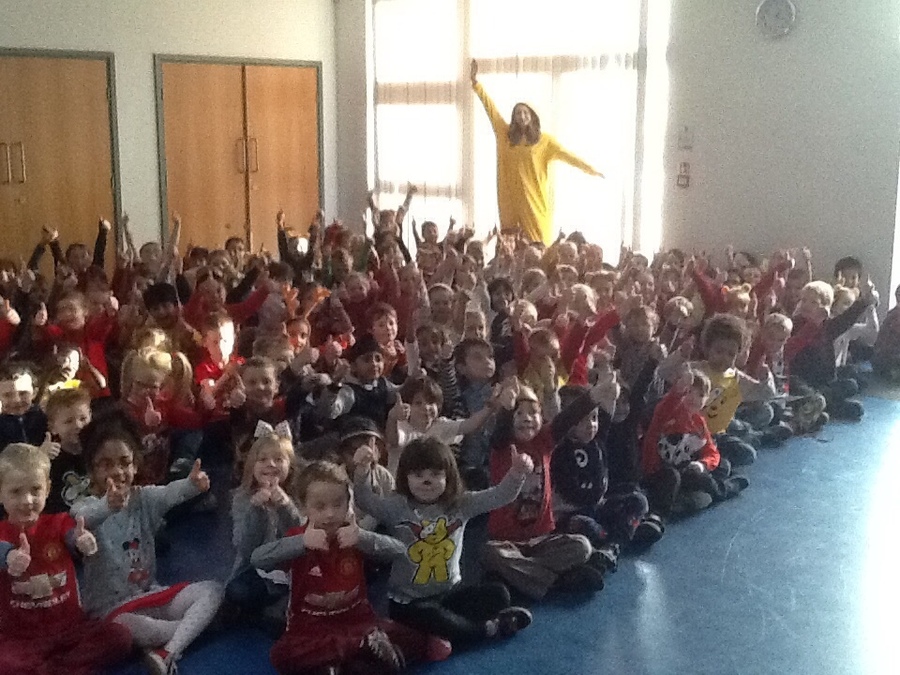 Nativity - 5th and 7th December 2016
The children have worked extremely hard to perform their nativity on three separate occasions. How wonderful they were! Thank you for your support!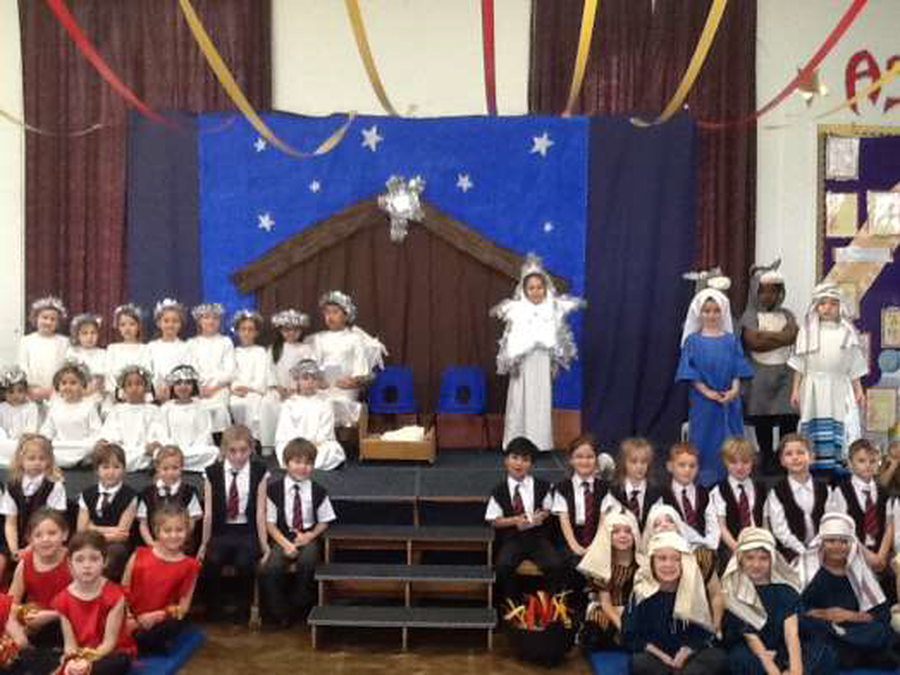 Homework - Autumn 2
How creative are our children! The children have gone above and beyond once again and they were very proud to show off their creations! On Thursday 8th December the children presented their homework tasks to their peers. We have learnt so much about animals and human bodies! Thank you for supporting your children at home.
Christmas Party
The children have had lots of fun in their school Christmas party. We played 'pass the parcel', 'islands' and 'musical bumps'. Also we made hot chocolate and toasted marshmallows on an open fire. We also enjoyed our party food and listening to music. Thank you for your contributions.