Ashden Awards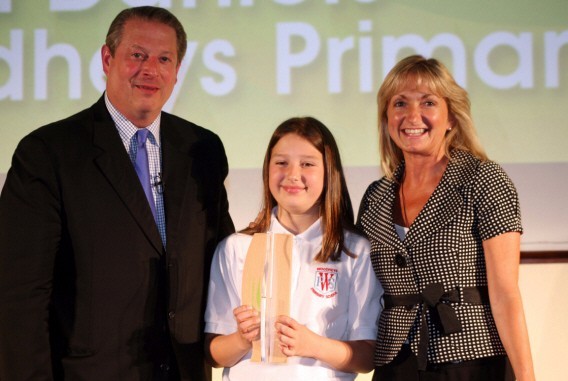 Al Gore with Headteacher Laura Daniels and a pupil from Woodheys Primary School, winners of the 2007 Ashden Award for Renewable Energy in Schools
In 2007, after a fantastic team effort, we were thrilled to come first in the whole of the UK in the Schools section of the Ashden Awards for Sustainable Energy. To win the first prize of £15,000, we had to prove that we had made substantial savings in energy use and that our good practice was being shared with the whole of the school community. Our Year 6 pupil Energy Team led the way, with help from Freda Eyden, our Environmental Projects Co-ordinator and Laura Daniels, our Head. We also had excellent support from Matthew Tidmarsh, the Energy Manager from Trafford Borough Council and Alan Bowman, our site manager at that time, not to mention staff, parents and Governors at the school.
In the run up to the finals, representatives from the Ashden Awards team came to school to judge us on site and this was followed by an in-depth interview in London, attended by Mrs Daniels and Mrs Eyden.
We had to wait until the awards ceremony itself to find out the result. Imagine our excitement when we found out not only that we had won first prize, but also that Al Gore, former US Vice President and environmental champion, was presenting the awards! We all had a fantastic evening and Mrs Daniels made a short acceptance speech which you can read below.
A film was made of our school and you can see it by clicking on ´Videos´ in the toolbar above. We hope you enjoy watching!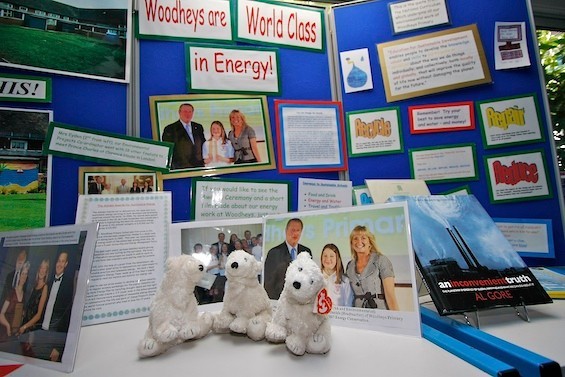 Our work on energy is still very much alive - catch up on all the latest news by visiting our Energy pages within the ´Eco Work at Woodheys´ section of the website. If you would like to find out more or share some of your ideas with us, please do phone or email. We would love to hear from you!
What are the ´Ashden Awards for Sustainable Energy´?

The Ashden Awards bring to light inspiring sustainable energy solutions in the UK and developing world and help ensure that they are spread more widely. From an entrepreneur rolling out solar power across rural India to a school adopting clean energy and green learning in England, our winners are passionate about bringing change to their communities and the planet.
The Awards were founded in 2001 by the Ashden Trust, one of the Sainsbury Family Charitable Trusts (SFCT). Since then we´ve helped more than 80 innovative projects develop their work. Today the Awards are an internationally recognised yardstick for excellence in the field of sustainable energy.
At the heart of the Ashden Awards is a rigorous judging process culminating in a prestigious ceremony in London where prizes are presented to winners from all corners of the globe to help further their work.

More and more schools in the UK are making sustainable energy a practical reality as well as a topic to learn about in the classroom and pupils themselves are often driving these initiatives with real commitment and enthusiasm, working together with their head teachers, parents, school governors, caretakers and others.
There are many ways that schools can develop good sustainability principles in pupils' mindsets and behaviour –from actually using renewable technologies like solar panels and wind turbines within the schools, to monitoring daily energy consumption and introducing energy efficiency measures. But more importantly, we´re impressed by schools that are embedding sustainable energy learning into the whole ethos of their school through the curriculum and activities involving the wider community.
Our Schools Award was set up in 2006 for schools that have been practising sustainable energy for more than a year and integrating it in the school's culture. We're looking for schools that can demonstrate they've made actual energy savings, reduced greenhouse gas emissions, and possibly generated renewable energy.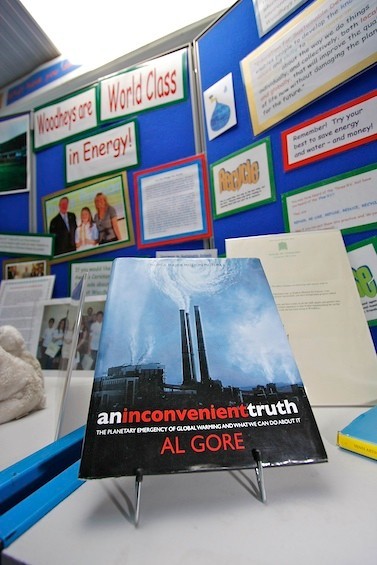 Acceptance Speech by Laura Daniels
"Amy and I are honoured to receive this Award on behalf of our Pupil Energy Monitors and the Woodheys Community.
Education is the key to the future survival of Mother Earth and our aim is for the children to become proud global citizens, committed to the United Nation´s Eight Millennium Goals, particularly Goal 7 - ´ensuring environmental sustainability´.
At this time of evolution and revolution, the positive energy being activated all over the world by awards like tonight´s, and strong leadership from people like Al Gore is truly inspirational."
The prize for winning the Ashden Award presented by Al Gore has enabled us to build our labyrinth, which links with sustainabilty, faith and culture.