Green Introduction
Please see media section for linked videos
Woodheys and Sustainability
At Woodheys Primary, our aim is to be as sustainable a school as possible in order to set a high standard of good practice and to save money and resources. We are very pleased to say that Woodheys has been making steady progress towards this ambitious target thanks to successful teamwork and the development of a very forward-thinking approach!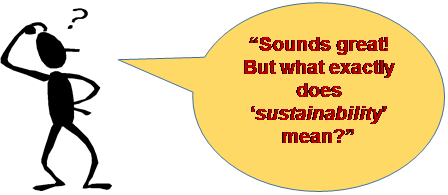 Well, you could think of it this way …
"Development that meets the needs of the present without compromising the ability of future generations to meet their own needs."
This definition of sustainability was created in 1987 by Gro Harlem Brundtland, the former Prime Minister of Norway and Chairperson of the World Commission on Environment and Development in a report called 'Our Common Future' (also known as the Brundtland Report).
But we have to say that we much prefer this short, snappy version:
"ENOUGH FOR ALL, FOREVER"
This was suggested by an African elder at the United Nations World Summit on Sustainable Development held in Johannesburg, South Africa in 2002.
It's much easier to remember!
Eco Schools News
Keeping the Flag Flying!
We have proudly flown our Eco Schools green flag since 2001 and it is time for us to apply for re-assessment for a third time. This will involve a team of pupils undertaking a review of the school and grounds from an environmental point of view. From this review we will draw up an action plan and an 'Eco Code' which will remind everyone in the school community about our main aims. Once this has been done and we are confident that our environmental work is continuing well, we can invite in the Eco Schools assessors to see if we still measure up to the very exacting standards required of this prestigious national award. We'll keep you informed of our progress!
Eco School Council
When we first become involved with the Eco-Schools programme, we set up an Eco-Committee of pupils, staff and parents, who met regularly to discuss environmental issues. As time has gone on, however, we have decided that we should widen their remit to include all sorts of issues, including the environment, and have renamed them our ´Eco School Council´. This new name reflects our commitment to citizenship and sustainability and the importance we place on giving our pupils a voice and a chance to participate in decision making at Woodheys.
Our Junior Road Safety Officers work closely with the Trafford Borough Council Road Safety Team to organise displays and competitions to teach other pupils all about how to be safe on and near roads.
Annually in the autumn term we hold our Eco School Council election to choose our representatives. Each class from Year 3 – Year 6 chooses two pupils to represent their ideas at regular meetings, which are also attended by adults
How the Eco School Council Works
The Eco School Council meet regularly and report back to everyone at the whole school assembly following each meeting. Each representative makes sure they regularly ask their classmates for ideas, suggestions and problems to discuss at meetings. Anyone can use the ´Eco Suggestions Box´ on the main corridor if they have an idea or suggestion to share or a problem to be discussed. The Eco School Council members consider the contents of the box as part of the agenda at every meeting. From time to time, the Eco School Council works with other pupil groups in school, such as the Energy Team, Junior Road Safety Officers, Recycling Team and Eco Monitors, to make sure that we are all working together to make the school a more sustainable place.
´Schools who demonstrate leading practice in sustainability´.
Waste Not Want Not
Our Recycling Team work very hard every week to make sure that we recycle as much paper as we can. We make sure that we use both sides before we throw it out, however! We were one of the first schools in Trafford to be given our own paper bank, which is regularly emptied. In previous years, we have made fascinating visits to the landfill site at Pilsworth, near Bury, and found out exactly what happens to all our waste. It has made us all the more determined to recycle as much as we can!
Money for Old Rope?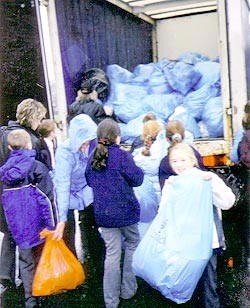 Well, not yet, exactly! However, in the meantime, wehave made lots of money through schemes run by recycling companies.
We now use the services of a company calledBags 2 School, in place of our previous jumble sales. Twice a year, they supply us with more than enough bags for all our school community to fill with unwanted clothes and household items. The filled bags are brought into school on an appointed day to be collected and weighed. We receive a good price per kilogram, there are no problems regarding storage or sorting contents and all the goods go to a charitable cause. Excellent news all round!
If you can suggest other ways of reducing the amount of rubbish going to landfill sites, we´d love to hear from you!
Spreading the word
We have welcomed a wide variety of visitors, including the leader and Chief Executive of Trafford Borough Council.
Our pupils are also involved in a joint project based on improving our local area and will be meeting regularly with pupils from two other local Primary Schools.