Labyrinth
Click here for clips from ´The Interfaith Ceremony to open our J.P.Joule Positive Energy Labyrinth May 23rd´08 funded by the Ashden Awards´
J.P. Joule Positive Energy Garden Opening May 23rd 2008
Installed by Nicholas J. Boult and designed by the Woodheys Community.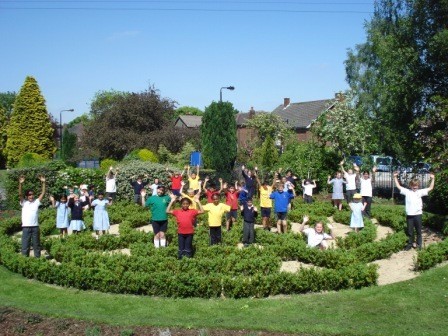 Clarke Lambert Landscapes 0800 096 0600 www.clarkelambertlandscapes.com
• In 2007 we won first prize nationally for energy conservation in the Ashden Awards. Our prize of £15,000 was presented to us by Al Gore.
• We have pledged to use the money to further educate the Woodheys community about sustainability and to share our good practice nationally and internationally.
• Prof. David Wards from SETPOINT, dressed in role as J.P. Joule and has worked alongside our pupils in Year 5 and 6 on exciting science project days on Forces, Electricity and Light.
• Around the garden there are information points, telling the pupils about J.P. Joule and his scientific achievements linked to energy.
• Both inside and around the Labyrinth are solar powered water features, garden ornaments and lighting.
• Our herb garden forms part of our sensory trail, opposite the tactile art work displayed along the nursery wall. Herbs are used in our school kitchen.
• J.P. Joule lived in the Sale area for 17 years. The 'kilojoule' measurement of energy is named in his honour.
• At the centre of our Labyrinth, the children have suggested that we have symbols of 'peace'.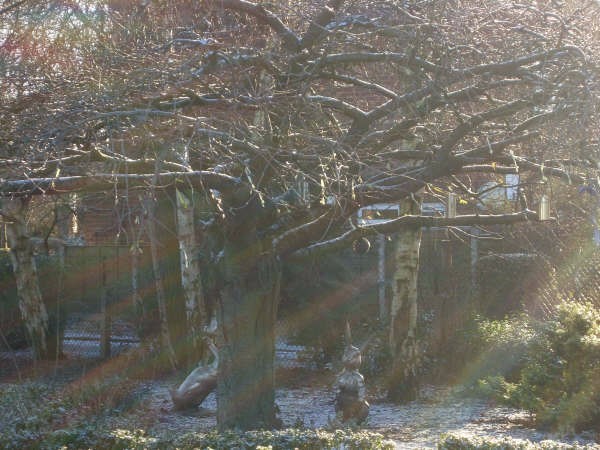 Winter time in the area surrounding our Labyrinth.

Using the Labyrinth.

• Our children have written prayers of peace in the world and hung them on our tree of peace for the wind to take their wishes around the globe.
•Medieval labyrinths were first developed during the 9th and 10th centuries and are commonly found in medieval churches and cathedrals in Europe. The most famous example is on the floor of Chartres Cathedral in France. People walk labyrinths for stress relief, anger and pain management, focus and meditation.
•When you draw a labyrinth or trace its shape with your finger it helps to balance your right and left brain. This expands your potential and enhances your capabilities. It is especially good for children, enabling them to do better at school and develop their latent talents.
1. With your finger or footsteps, trace the path from the entrance to the centre of the labyrinth.
2. If you have a problem, think about it as you enter your labyrinth.
3. Be calm and relax. Enjoy the silence on your journey. Wait at the centre and think.
4. You may want to repeat a quiet word or sentence on your journey, an affirmation e.g. `Peace´, `Hope´ or I am calm and peaceful´, `I trust my inner voice´.
5. As you walk out of the labyrinth, open yourself to any answers or thoughts that may come to you.
6. You may want to share your experience with a friend but only if you want to.
7. How did you feel?
Labyrinths are being built in schools throughout the world, painted on playgrounds, laid in stone in courtyards and outlined in flowers and bushes in gardens. Labyrinths engage a child's natural creativity. The garden will also provide a quiet place for the Woodheys community in our busy lives.

Please visit websites www.veriditas.org and www.labyrinthsociety.org

Our Labyrinth is designed for wheelchair access. The gardens and tactile art work are designed for sensory impaired pupils and visitors.