Faiths and Beliefs
A Chronological History of the Golden Rule (free online)
Dear Golden Rule allies around the world:
Scarboro Missions is pleased to announce the publication of a milestone document in the history of the Golden Rule.
This chronological history of the Golden Rule is authored by Rev. Dr. Harry Gensler S.J. A professor of philosophy at John Carroll University in Ohio (USA), Gensler is one of the top Golden Rule scholars in the world. He has been writing and researching in the Golden Rule field for 45 years.
This amazing 30-page document chronicles the history of the Golden Rule from ancient to modern times. Essentially, the paper charts the ethical history of humanity through the lens of the Golden Rule. This chronology is an ideal teaching tool with the capacity to reach a multitude of diverse audiences. It also has interfaith content.
Below is the link to this document. Please feel free to forward this link and announcement through your communities and networks for use in newsletters, bulletin boards, websites, mailing lists, list-serves, blogs, Facebook pages, twitter, etc.
To view or download this document free of charge click here: http://www.harryhiker.com/chronology.htm
Mrs Daniels has enjoyed a two year course studying the six major faiths. During her two year Interfaith Course Mrs Daniels visited different places of worship, met faith leaders and encouraged them to recognise the Peace Mala message of mutual understanding and respect. Mrs Daniels has taken photographs of all the people she has met, wearing their gifted Peace Mala.
After winning the Peace Mala Award and becoming a Peace Mala Accredited school our work culminated in the Peace Mala Festival of Interfaith and Culture 2010 at the Monastery Manchester. Terry Waite was the guest of honour and has also visitedWoodheys Primary School to see our work.
We received Peace Mala reaccreditation Summer 2013 presented by Lat Blaylock The Editor of R E Today.
For further information and images from the Peace Mala Festivals please visit the dedicated website: www.peacemalafestival.com
Please follow this link for further Interfaith Project news at Woodheys.
The 6 major faith leader's photographs are in their sections. All other faiths can be found here.
If your faith is not presented please contact Mrs Daniels.
If you look in the Faiths around the World section you will see wonderful photographs of different Faith Leaders proudly wearing their Peace Mala bracelets and becoming part of our Peace Mala Global Family.
Our first task in approaching another people,
another culture, another religion,
is to take off our shoes,
for the place we are approaching is holy.
Else we may find ourselves treading on another´s dream."
Max Warren.
"Like the different flowers,
the wise person accepts
the essence of the different scriptures
and sees only
the good in all religions."
Mahatma Ghandi.
Different Faiths at Woodheys
Our religious education lessons cover all the major faiths and we are delighted that all our parents in school are happy for their children to have such an informed and broad knowledge of world religions.
At school as part of the National Curriculum we study the six major faiths and have a wealth of resources in school including films to represent the six major faiths from a child´s eye point of view.
We recognise that there are many religions and accept that some people are humanists.
www.childseysmedia.com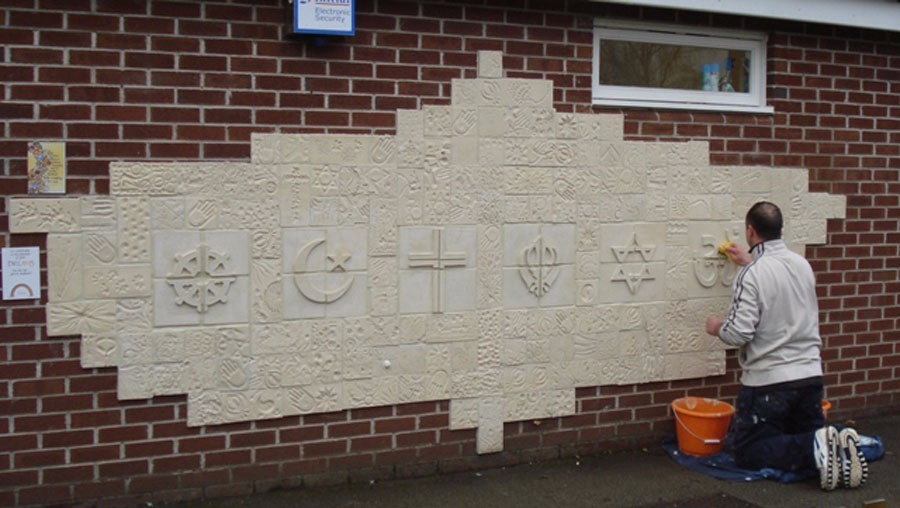 The Interfaith Ceramic was created in conjunction with Altrincham College of Arts co-ordinated by Sharon Blakey and our Year 6 pupils in 2008. The ceramic was commissioned to celebrate Woodheys´ 70th Anniversary. The final touches were put in place on Friday 30th January 2009 by Anthony Devereux of Splashzone.
We continue to have termly visits and assemblies from the Rev. Lorimar from Sale Methodist Church, Sarah Hagan from Sale Bapist Church and Rev. Gerry Foster from Sale West Church.
Every Christmas we have a traditional nativity with all faiths and nationalities taking part.
T

ogether

E

veryone

A

chieves

M

ore.

We have hosted SACRE, Trafford´s Religious Education forum, at the school. The ex-Mayor of Trafford Bernard Sharpe is a great admirer of our multi-faith work and subsequently accepted our invitation and attended our "International Evening". Councillor Sharpe also walked for Global Peace on behalf of Judaism at the opening of our labryinth.

The Rev. Thomas Shepherd, the Chair of SACRE, wrote to thank Mrs Daniels for her presentation on the evening and to state that SACRE members were very impressed with all that is happening at the school to promote pupils´ spiritual, moral, social and cultural development. Members could see that the school celebrated its vibrant multicultural community and were particularly impressed with the environmental work and plans for the Labyrinth.

Mr Hirani can be contacted for further information on diversity and community -info@multifaiths.com

For additional information on Multi Faith Festivals in relation to the World´s 12 major faiths. www.multifaiths.com