Hinduism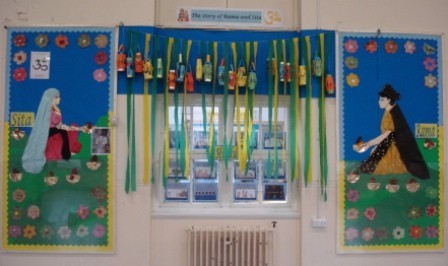 Slideshow of images taken when Mrs Daniels' visited a Hindu Temple in October 2013
The festival of Holi is celebrated in the Hindu Faith.

Here is a link with the story of Holi:
http://www.tudo.co.uk/hindustories/03_holi/holi.html

The story contains useful information about Hindu philosophy in general, made entertaining through the thrilling story.
HINDUISM
Hinduism began in India thousands of years ago and is still the main religion of India and Nepal.

Hindus believe that every person's spirit is part of the great spirit of the universe they call Brahman.

This great spirit is everywhere, is eternal with no beginning and no end, and no form which can be pictured.

The many Gods and Goddesses worshipped by Hindus each represent one aspect of this great spirit. They are all reincarnations of the one God.

Three of the most important Gods are Brahma the Creator, Vishnu the Protector and Shiva the Destroyer. These three Gods are known as the Trinity.

The Trinity represents the three energies the one God is made of. In each of us are found the three energies. When these energies are balanced an individual is closest to God.

Hinduism teaches non-violence, truthfulness, respect for parents and the elderly, simple living and helping the needy.

Hindus believe that you should live a moral life so that you will be born again at a higher level. If you do not do this, you may come back at a low level as an animal or an insect, to begin again to slowly rise through the levels.

Hindus have all kinds of rich and colourful ceremonies. Most Hindus keep a small shrine at home. There are many temples, small and large, where people stop to pray and leave a flower to their favourite God.
Preston, A. (2004) "All in Good Faith – Thirty Six Primary School Assembly Stories." Topical Resources: Preston
Hinduism
More than 80% of people in India are Hindus. The term "Hinduism" refers to a culture, which covers a wide range of practices and beliefs based on ancient scriptures known as the Vedas. Devout Hindus believe in reincarnation (samsara), which means rebirth into a higher or lower existence determined by how we live our lives; this is the law of Karma. Hindus believe that animals, like humans, have souls and are evolving towards a higher consciousness. Kindness to animals is a basic principle of the Hindu religion, which teaches respect for all living creatures. Being vegetarian is highly respected. Cows, especially, are considered very sacred and must not be eaten.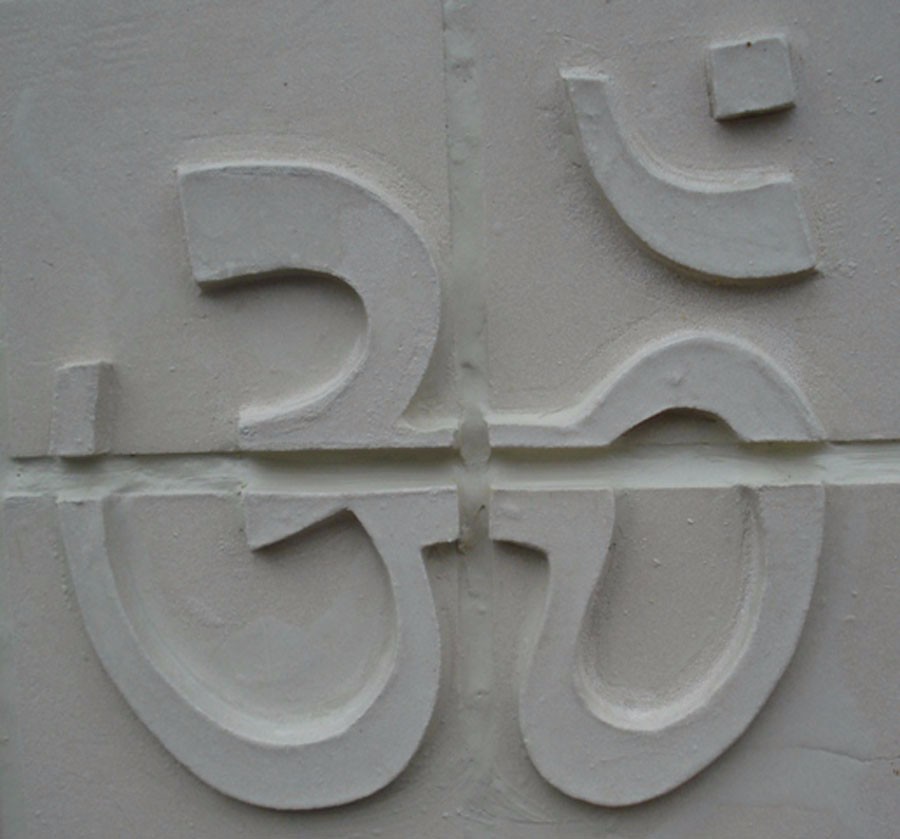 | | | |
| --- | --- | --- |
| | | |
| The Pulla family who kindly invited Mrs Daniels to visit their home and discuss how they celebrate Hinduism within their family. | This is Ganesh he is the Hindu God who helps remove obstacles in people's lives and protects them on long journeys. Mr and Mrs Pulla kindly gave Mrs Daniels her own Ganesh before she travelled to South Africa. | This is Siddarth in his prayer corner giving offerings to the Deities. |
Mr Pulla very kindly provided information about the Festival of Dasara.
Festival Dasara
In the months of Ashwin and kartik, Hindus observe a 10 day ceremony of fast, rituals, celebrations, feasts to honor the mother Goddess and triumph of Lord Rama over Demon Ravana. Dasara also symbolizes the triumph of warrior Goddess Durga over the buffalo demon, Mahishasura. Thus, it is a celebration of victory of good over evil.

This celebration starts from Navratri and ends with the tenth day festival of "Dasara". Navratri and Dasara is celebrated throughout the country at the same time, with varying rituals, but with great enthusiasm and energy as it marks the end of scorching summer and the start of winter season.

The tenth day after Navratri is called Dasara/ Dussehra in which number of fairs are organized throughout India, burning effigies of Ravana. It is also called "Vijayadashmi" as this day marks the victory of Lord Rama over Ravana. VijayaDashami is considered to be an auspicious day for the Indian householder, on which he worships, protects and preserves ´Shakti´ (power). According to Scriptures, by worshipping the ´Shakti´ on these nine-days the householders attain the threefold power i.e. physical, mental and spiritual, which helps him to progress in life without any difficulty.
In India harvest season begins at this time and as mother earth is the source of all food the Mother Goddess is invoked to start afresh the new harvest season and to reactivate the vigor and fertility of the soil by doing religious performances and rituals which invoke cosmic forces for the rejuvenation of the soil.
On the day of Dasha-Hara, statues of the Goddess Durga are submerged in the river waters. These statues are made with the clay & the pooja is performed with turmeric and other pooja items, which are powerful disinfectants and are mixed in the river waters. This makes water useful for the farmers & yields better crops.
Buses, trucks and huge machines in factories are all decorated and as Dasha-Hara is also treated as Vishwakarma Divas - the National Labor Day of India. Veda Vyasa is considered as the foremost Guru and Vijayadasami is also celebrated as Vyasa puja.
Dasha-Hara is the festival of Victory of Good over Evil.
Many houses also perform Aditya Homa as a Shanti Yagna and recite Sundara Kanda of Srimad Ramayana for 9 days. All these Yagna Performances are to create powerful agents into the atmosphere surrounding the house so as to keep the household environment clean & healthy.
The purpose of performing these homas is also to kill & sacrifice the 10 bad qualities, which are represented by ten heads of Ravana as follows:
(1) Kama vasana (Lust), (2) Krodha (Anger), (3) Moha (delusoion), (4) Lobha (Greed), (5) Mada (Over Pride), (6) Matsara (Jealousy), (7) Manas (Mind), (8) Buddhi (Intellect), (9) Chitta (will) & (10) Ahankara (Ego).
| | |
| --- | --- |
| | |
| Jay Lakhina – Quantum Scientist Cambridge University who lectures in Hinduism. Jay is a Hindu Educationalist promoting Hindu education in schools, colleges and universities in the UK. He runs the Vivekananada Centre London. | Pandit Purohith at the Hindu Temple, Geeta Bhavan, Chorlton, Manchester. |
| | |
Mrs Daniels visited Hindu Temples in both Cape Town and Durban South Africa. Here is Mrs Daniels in between a statue of Ghandi and a painting of Ganesh.
| | |
| --- | --- |
| | |
| This is Mina a teacher at Gordon Road Girls School who took Mrs Daniels to a Tamil Hindu Temple. Normally the statues of the deities have pink complexions, but here they were dark skinned. | |
Shah Somlal – the Hindu IT teacher at Gordon Road Girls School took Mrs Daniels to a Hindu Crematorium which was very peaceful. The deceased ashes were dispersed into sacred water from the Ganges which then led into a local river then on into the ocean.
Here are representatives of the beautiful golden Krisna Conscious Temple in Durban which has a well known Vegetarian Restaurant. Pictured is Sri Swami Sivanada a Spiritual Leader whom Mrs Daniels met.