Afritwin
Afritwin 2015
Miss McCann (Year 1) is our new Afritwin Co-ordinator alongside Mr Byrne (Year 5) have just returned from a visit to our twinned school Sea Point Primary in Capetown SA.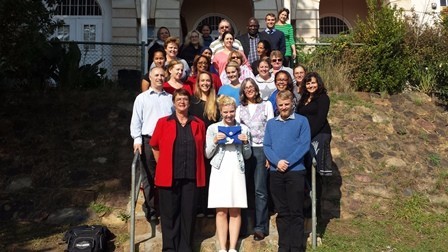 In June 2015 Woodheys is looking forward to welcoming a SA teacher - Mrs L Cook from Sea Point Primary School in Capetown.
Mrs Cook will be spending the week at Woodheys - we have lots of fabulous activities planned.
Please click on our link to view the latest Afritwin Newsletter.
Check back for our updates. Thank you.
Afritwin Visit 2011
Mrs Eyden and Miss Lane return to Gordon Road Girls School Durban and Vumokuhle School Umlazi in 2011 - Click to download
Afritwin Visit 2009
Latest visit by Mrs Bloor and Miss Turner to Gordon Road Girls School Durban and Vumokuhle School Umlazi 2009
Photographs taken during our visit to Gordon Road Girls School Durban S.A.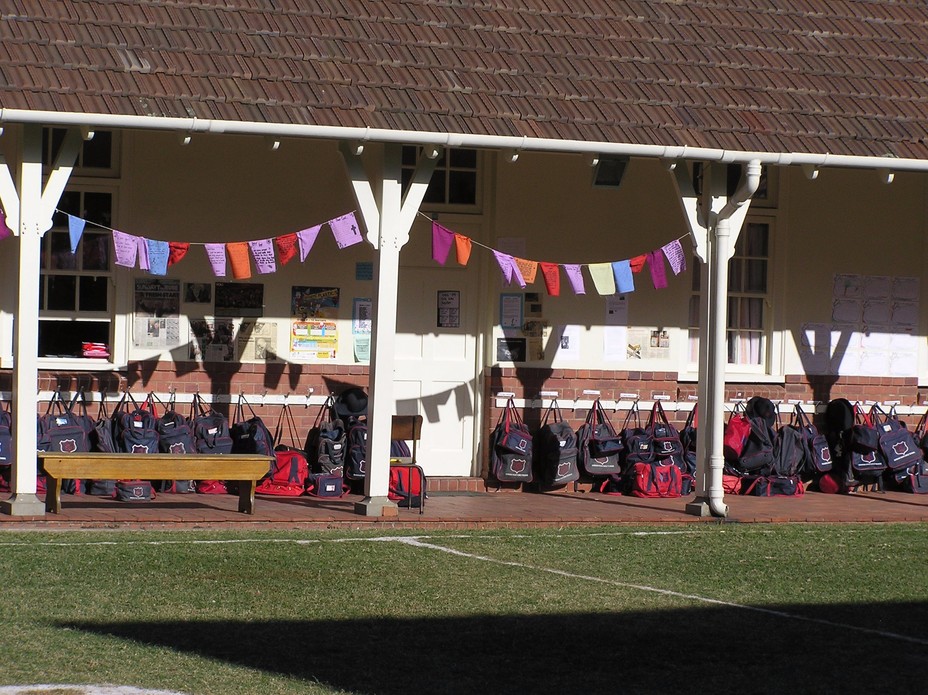 Beautiful flags for peace outside Ms Miller´s classroom. Ms Miller also has a grass netball court outside her classroom too. The whole school gathers for Morning assembly.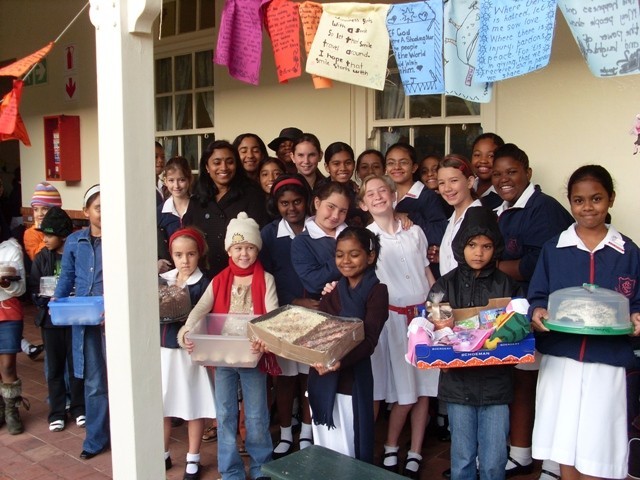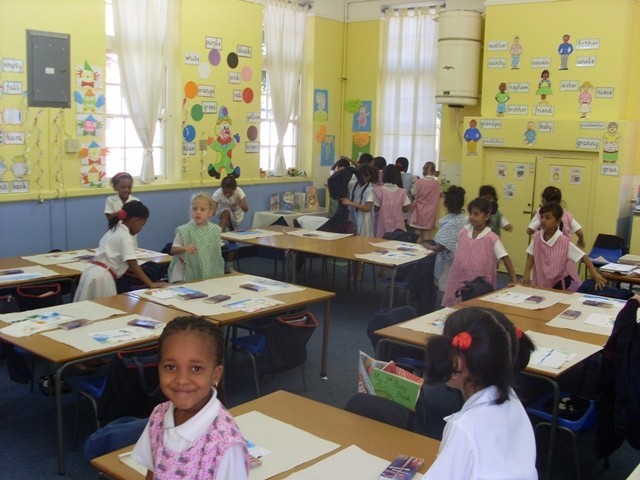 Cake sales organised by different classes to raise funds take place weekly. Pupils in Miss Algie´s class wear beautiful aprons to protect their clothes whilst working on art projects. Miss Algie teaches 4 and 5 year olds.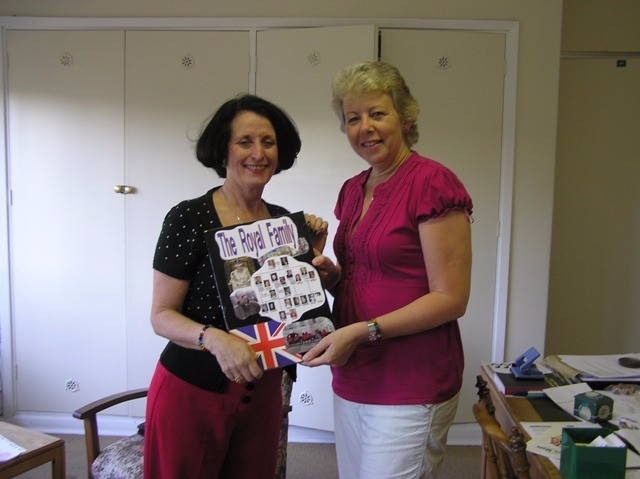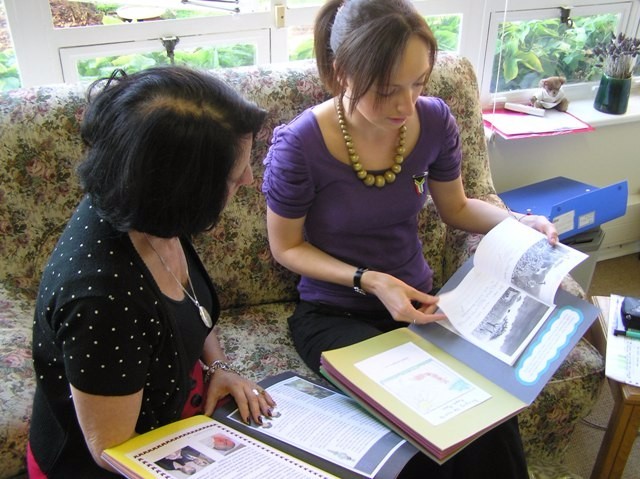 Mrs Johnstone principal at GRGS pictured with Mrs Bloor receiving Woodheys project using ICT in KS2 on The Royal Family. Miss Turner handing over our Water Project completed by pupils in KS1 at Woodheys.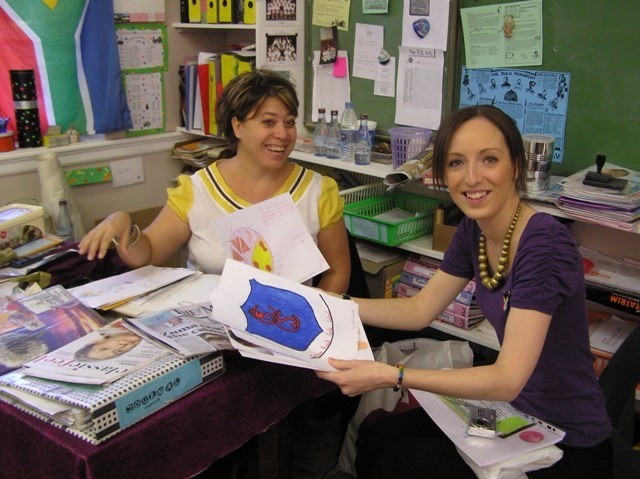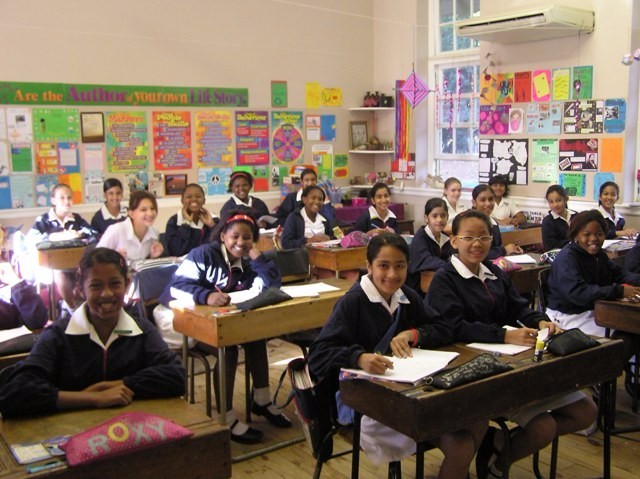 Ms Miller teaches Grade 6 girls (11/12 year olds). The pupils in her class had written letters to our Afritwin Club pupils. Woodheys pupils now have "pen-pals" and communicate by post and also on the web through Afritwin.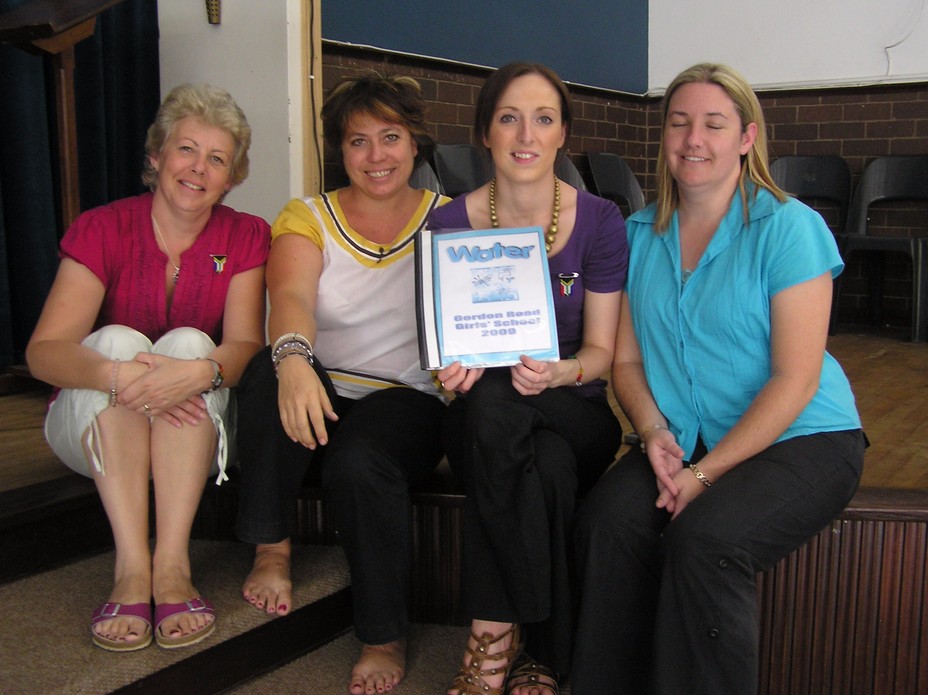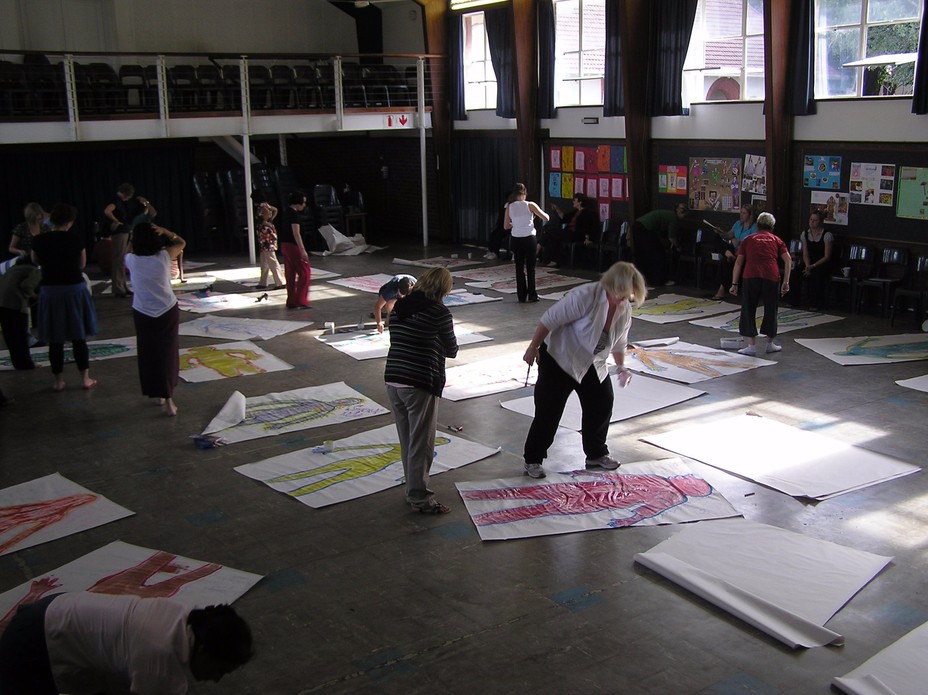 Mrs Bloor, Ms Miller, Miss Turner and Miss Algie reflecting over the Aftwin visit and also the staff training on body-mapping.
Photographs taken on our visit to Vumokuhle School Umlazi.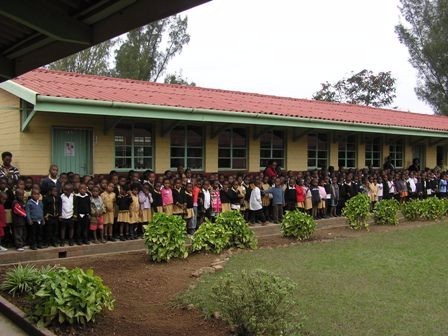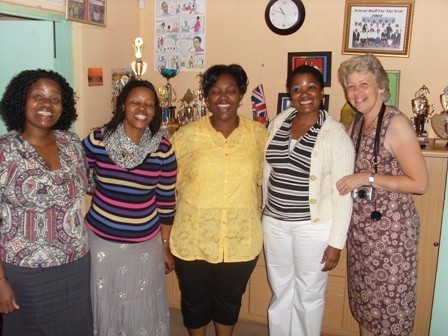 We were overwhelmed by the welcome given to both Laura and I. Meeting with Vumokuhle Afritwin´s Team it felt like meeting "old friends"..Mrs Mazubaine is now Vumokuhle´s principal - we had previously met in 2008 when she had accompanied Mrs Beetge from GRGS.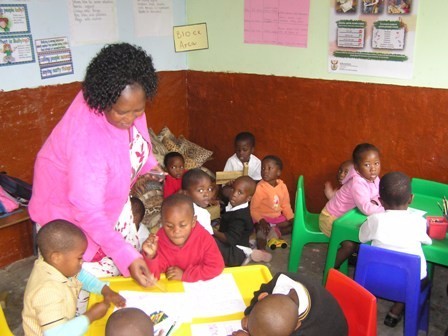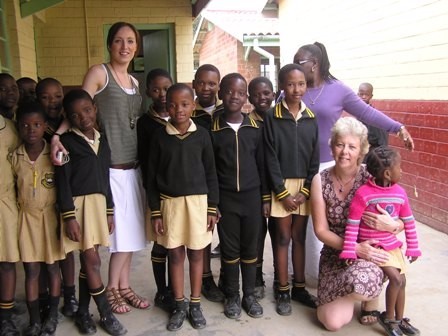 We were able to visit "Little Woodheys" where children too young to be in formal education are well cared for whilst their parents are out at work. We left many friends behind. The help that we are able to provide makes a huge difference to many lives.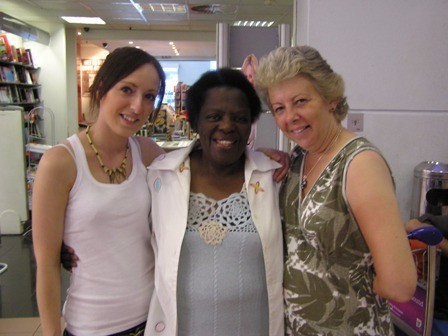 Mrs Raedebe retired principal at Vumokuhle was our first Afritwin visitor to Woodheys in June 2007. We were delighted that she was able to meet us. She is such a very special lady.
| | |
| --- | --- |
| Jayne Martin - Afritwin Co-ordinator gifted a beaded dove of peace to Woodheys School. The Dove was designed and created by David who is pictured. David is the father of two young daughters and earns his living by making and selling beaded goods. | |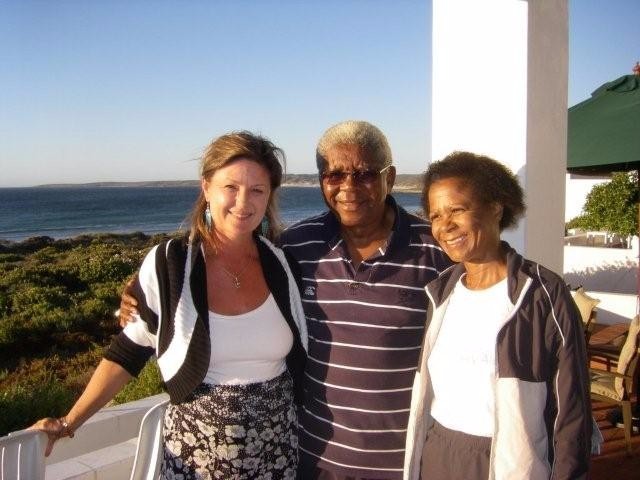 Pictured is Jayne Martin - Afritwin Co-ordinator with Archbishop Ndungane and Steve Biko´s widow Dr. Ramphele.
Introduction to British Council - Afritwin Project
The British Council funded our 3 year Afritwin Project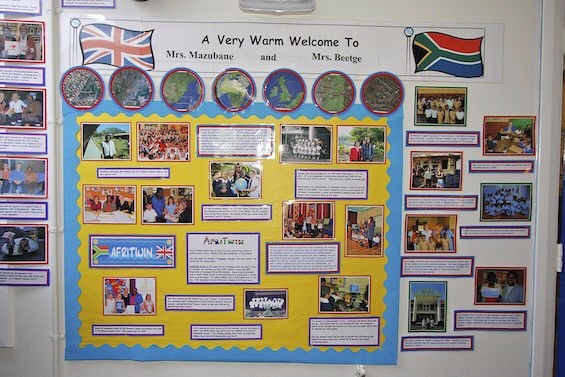 Through the ´Afritwin´ project, we are ´twinned´ with two schools in Durban, South Africa. Gordon Road Girls´ School is situated in a relatively affluent, residential area of the city. Vumokuhle Primary School is a Zulu school, situated in the township area of Umlazi in the outskirts of Durban.
Thanks to British Council funding, we have welcomed teachers from both schools, starting with Mrs Gugu Radebe, the former Head teacher of Vumokuhle and followed by Mr Somlal (ICT - GRGS), Mrs Beetge (GRGS) and Mrs Mazubane (Head teacher at Vumokuhle), Miss Algie (GRGS) and Ms Miller (GRGS). Miss Lane, Mrs Daniels, Mrs Eyden, Miss Turner and Mrs Bloor from Woodheys have also been privileged to visit South Africa over the past three years.
| | |
| --- | --- |
| | |
| On the 30th April Woodheys celebrated "A Rainbow Day". We enjoyed a whole school presentation to learn more about why South Africa is also known as the "Rainbow Nation". The whole school dressed in rainbow colours. We also had a fabulous cake sale. Thank you to everyone for supporting this wonderful day. | Our Afritwin Club is currently made up of 15 junior pupils and 3 adults - Miss Turner, Mrs Bloor and Mrs Eyden. We meet on Tuesday lunchtimes and enjoy activities linked to South Africa and our twinned schools. |
| | Afritwin members Lily and Lana eagerly awaited their first customers. The variety and choice of cakes was incredible. We are so fortunate to have such an amazing and supportive community at Woodheys. |
| Pictured is Emily who is in Miss Lane´s Class. Emily wore rainbow coloured clothes, a rainbow necklace, feathers in her hair and even rainbows beautifully painted on her face. Many, many other pupils were dressed in fantastic rainbow outfits. | |
We also work closely with Afritwin colleagues at Springfield Primary School in Sale as part of a cluster of Afritwin schools in the area.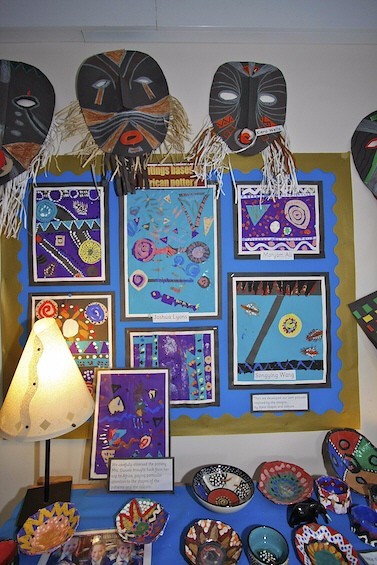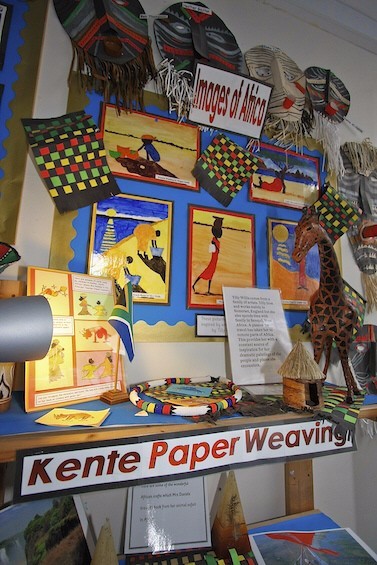 Kente Paper Weaving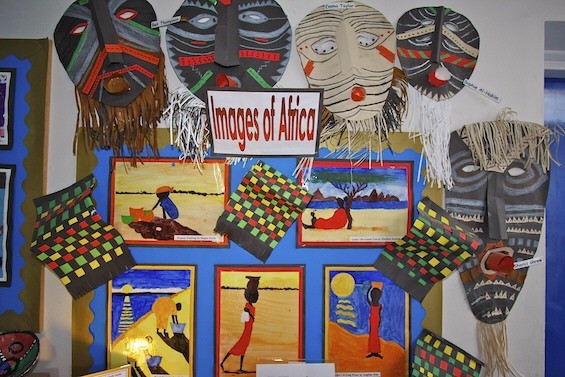 Images of Africa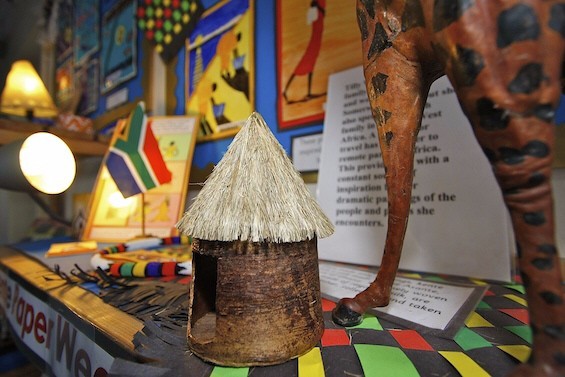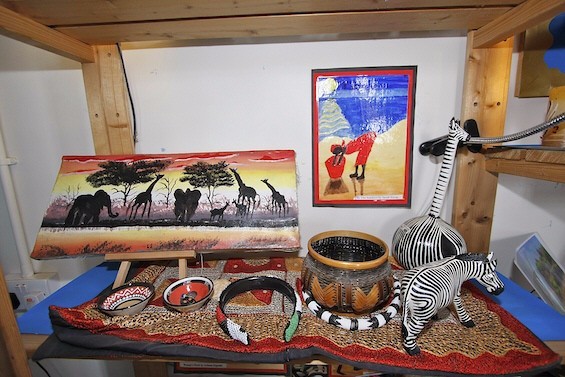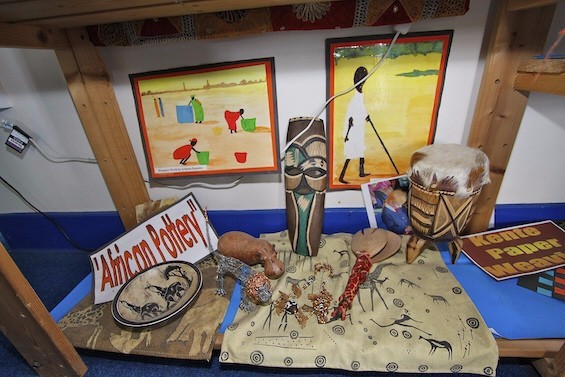 African Pottery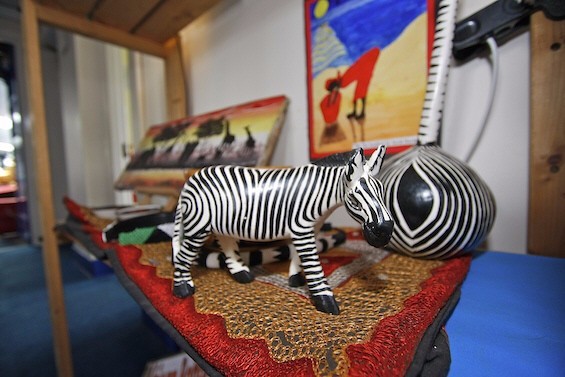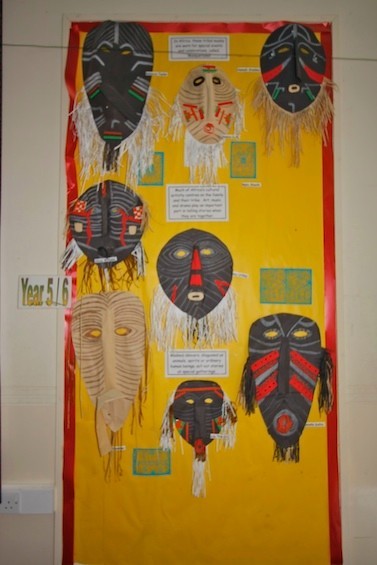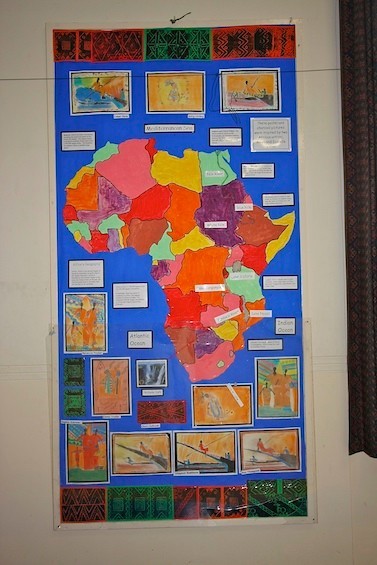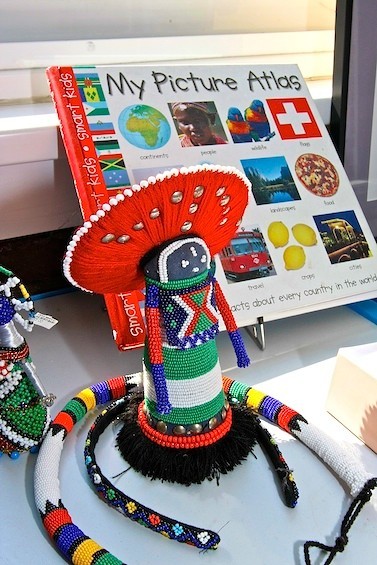 An example of beautiful beadwork from Kwa Zulu Natal, South Africa, brought to us by Mrs Radebe from Vumokuhle Primary School.
History
Afritwin Club
KS2 pupils meet during a Tuesday lunchtime with Miss Turner, Mrs Bloor amd Mrs Eyden to share activities linked to our twinned school. There is opportunity to chat online with pupils at Gordon Road Girls School in Durban. All pupils share news and views and discover many similarities as to favourite pop stars, sports, hobbies etc. There is also the opportunity to learn about different cultures, foods, school life, celebrating Christmas in the summer.......... Below are pictures to show just some of the fun and activites that we get up to!
| | |
| --- | --- |
| | |
| | |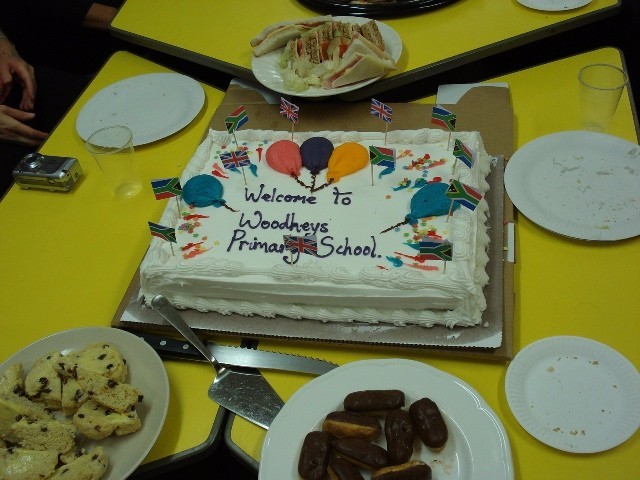 One of the schools is an all girls' school in a fairly rich neighbourhood and the other is in a Zulu township.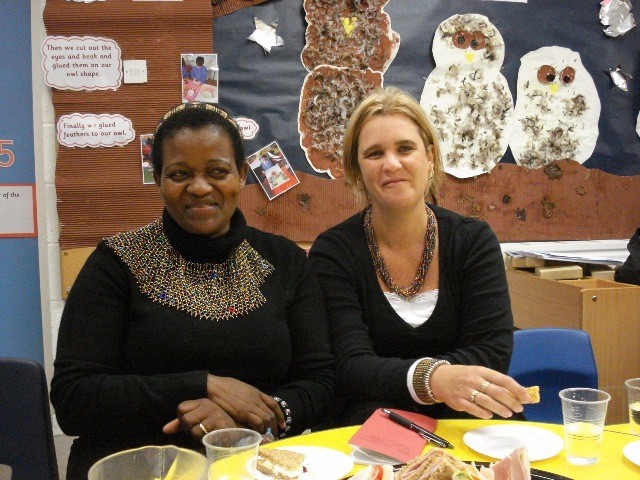 Mrs Radebe, the Head teacher of the Zulu school, visited us for two weeks in 2006.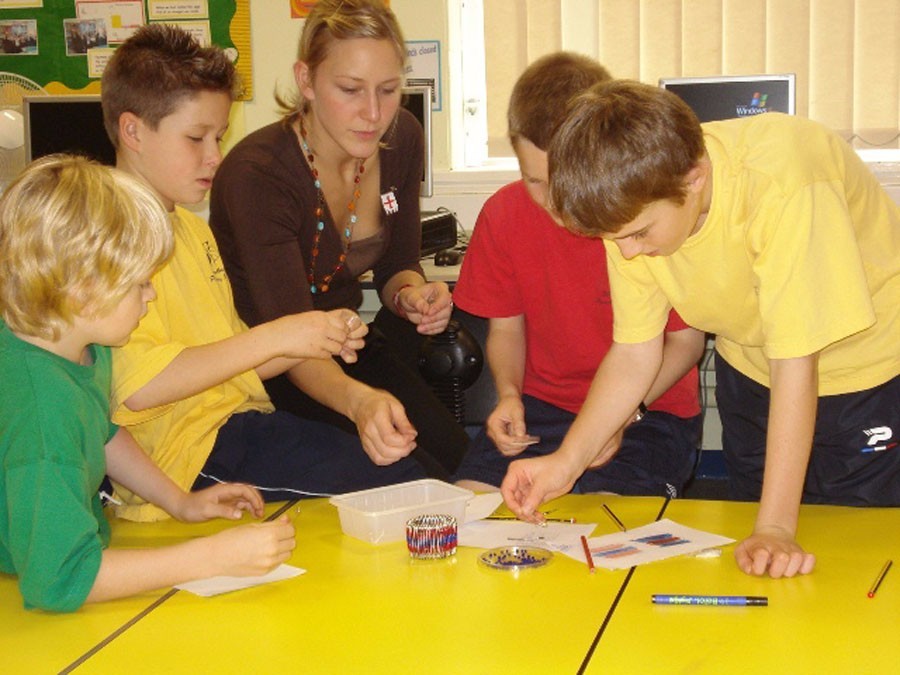 She showed us how to do some fantastic beadwork like this. She made it look easy, but it's really hard!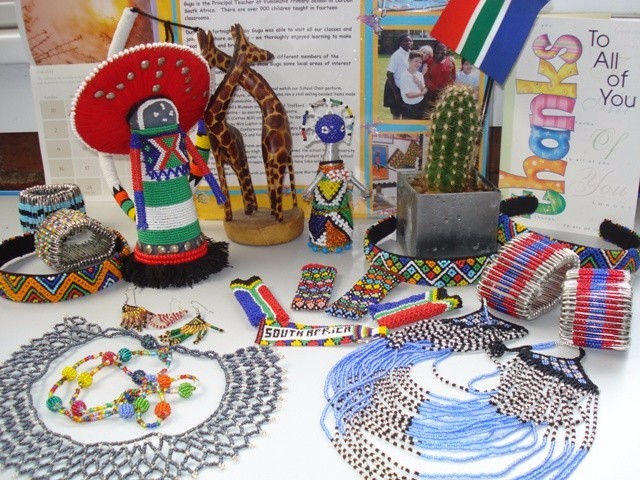 We now have a special Afritwin club during Tuesday lunchtimes. We use email and video cam links to talk directly to the children in Durban. It's very exciting to hear and see them!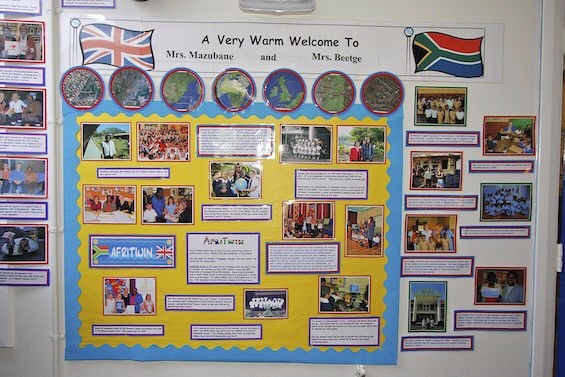 We are doing some special projects with the two Durban schools. For example, we have been researching our favourite playground games. We are going to make them into a pack which we can send over to them. In return, they will send us a selection of games which we can try out.