International Schools
International Schools Newsletter 28th April 2008
Woodheys Primary School is an accredited International School.
Our application form and evidence book for the International Schools Award reaccreditation 2011 has been compiled by Miss Ashraf. This book is available to view at school and comprises all the wonderful International work that we have undertaken this year at Woodheys.
Peace to our Woodheys Community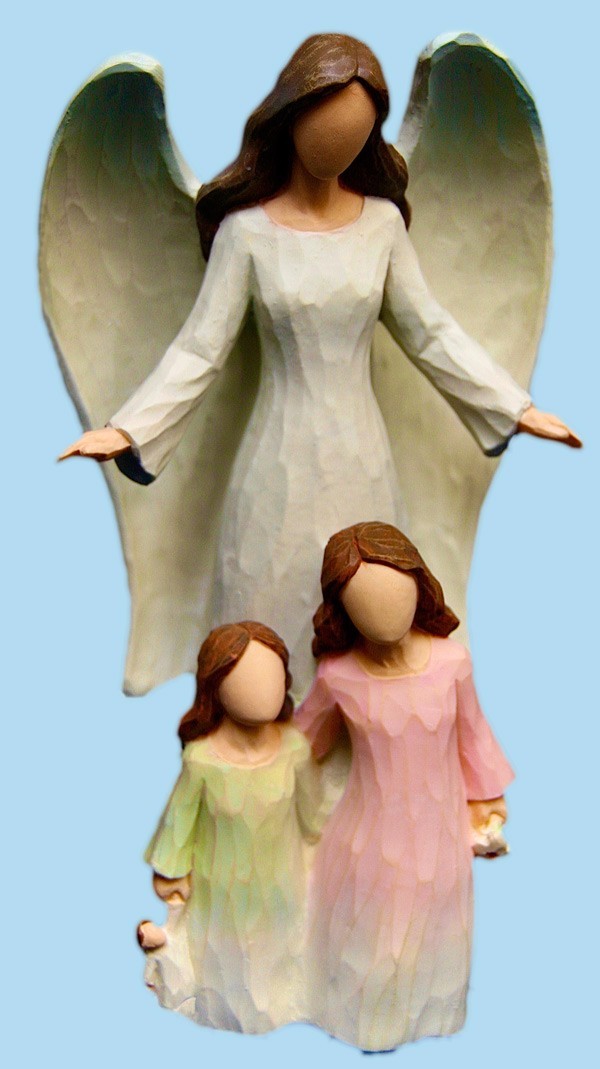 As an accredited International School, pupils are encouraged to work on the promotion and understanding of the concept of ´peace´ both locally and nationally. Our environmental work particularly helps, as most environmental problems transcend national boundaries and therefore require solutions that are mutually reinforced at global, regional, national and community levels.
As the words of the song go:
"I believe the children are our future,
teach them well and they will lead the way".
Our lessons include debate, mediation, resolving conflict, social justice, making decisions/choice and simple ideas for getting along with each other and being kind and supportive to our peers.
A very interesting website is www.peaceoneday.org which promotes the UN International Day of Peace, fixed in the global calendar on May 21st.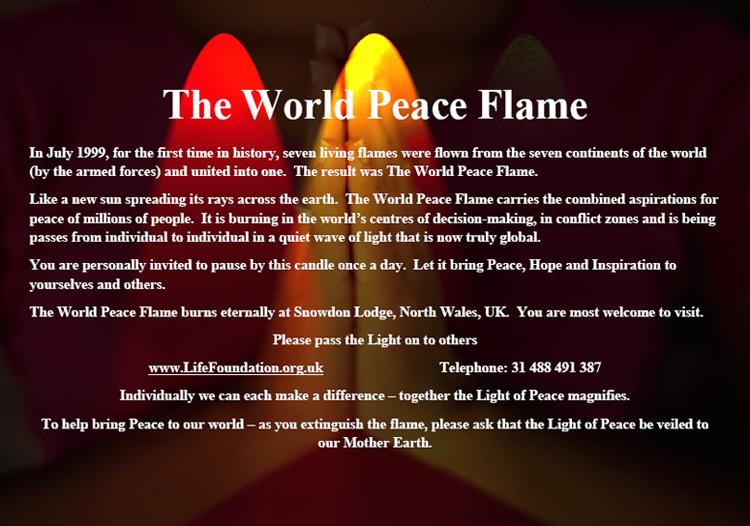 Pupil Presentation to the Commonwealth Secretariat in London
Commonwealth Theme 2008 "The Environment - Our Future" www.thecommonwealth.org
We are delighted and very honoured to be able to tell you all about our school, Woodheys Primary School in Sale, Greater Manchester.
The word 'Commonwealth' means 'joining together for the common good'.
Yes, our school motto is
TEAM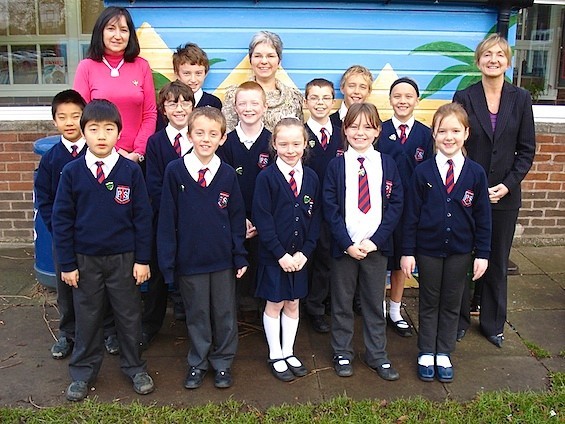 "TOGETHER EVERYONE ACHIEVES MORE!"
and we hope to show you that, through teamwork, we really do achieve more!
Historical
There are lots of teams in our school. One of the most important is the Eco School Council.
We hold an election every October and each class from Year 3 to Year 6 chooses two children to represent them on the council.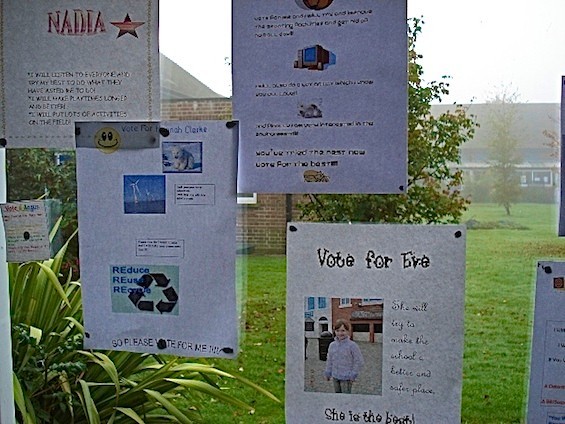 We meet every month to discuss ideas from our whole school community. We also have to solve problems from time to time. That can be quite tricky, but we do our best!
We think it's really important that everyone in our school knows that we value their opinions and are willing to help them.
Voting, democracy, listening and helping – it sounds a lot like the Commonwealth!
Several other teams work alongside the Eco School Council. For example, here are Millie and Matthew to tell you about our Junior Road Safety Officers .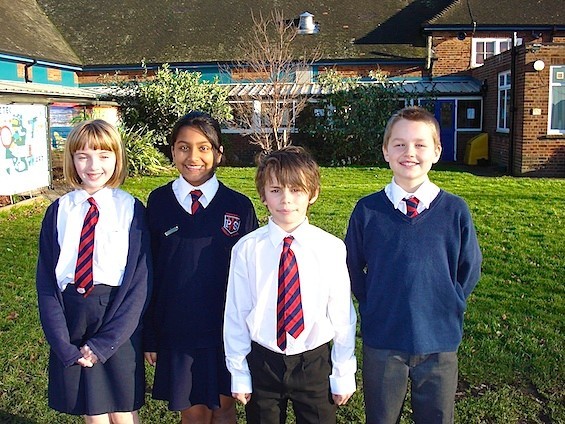 The Junior Road Safety Officers work with our local Council to make sure that children feel safe on the roads. We help to organise competitions, put up posters and give out leaflets about road safety.
The Council give us lots of help. For example, they run cycling proficiency classes for our older pupils every year. They would help us to organise a walking bus if we wanted one for school.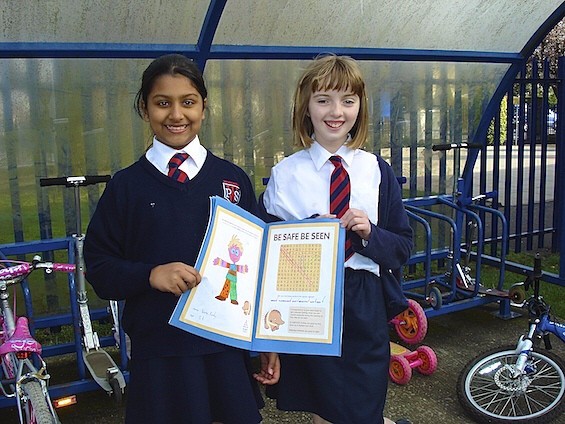 Be Safe Be Seen!
We can tell them if we hear about problems on the roads near school like too much traffic, or danger spots and they will try to sort them out.
The Junior Road Safety Officers report back to the Eco School Council every now and again. So do the Energy Team.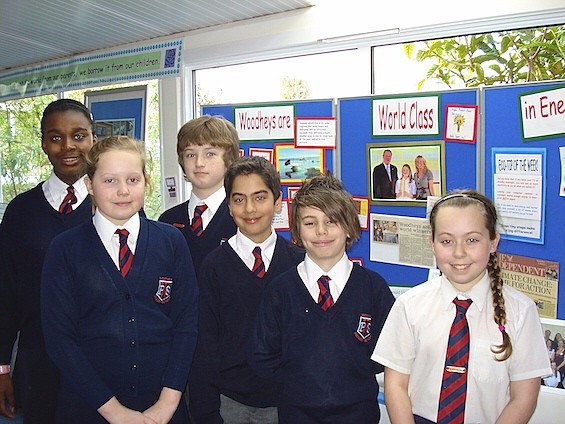 Our Energy Team
A few years ago, like everyone else, we began to hear more and more about global warming. So, in 2005, we set up a special Energy Team to find out exactly how we were using gas and electricity in school.
We were sure that if we could start saving energy, not only would we help the planet, but we would definitely save money to spend on other things!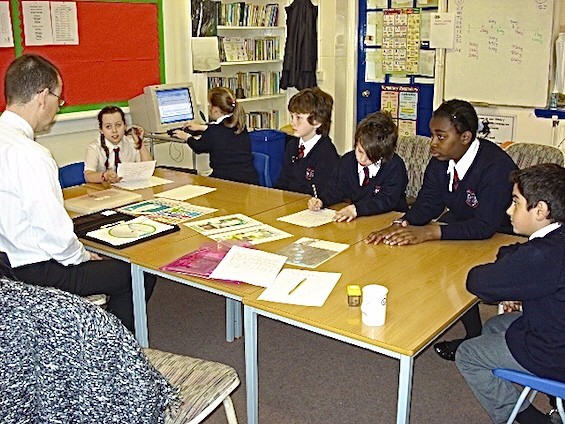 Our Energy Team working with Mr Tidmarsh, Trafford Council Building Services

A team of Year 6 pupils were chosen and they did a great job. They soon found out that we were wasting energy and money all over the place!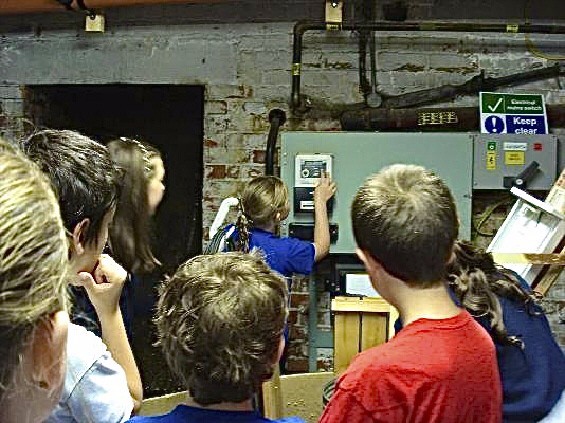 So, since 2005, we have continued to read the electricity and gas meters every week with our caretaker. We keep records and make graphs to show how much we use. This keeps us all on our toes!
We also do random checks every week to find out if pupils and teachers are leaving lights and computers on when they aren't needed.
A few years ago, some solar panels were put up on our roof. They make a small amount of energy for us and it's all free! Every week we also record how much power they have generated. Every little bit helps!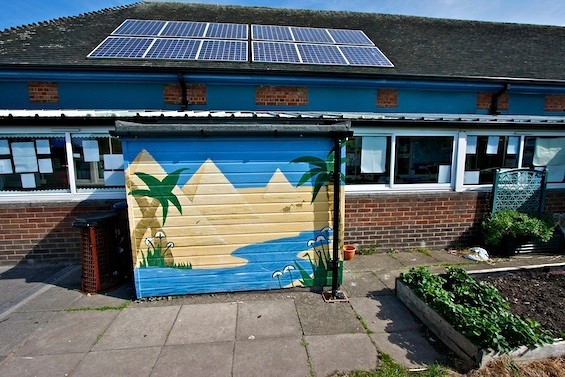 Of course, everyone needs a little encouragement, so we have a competition where, every four weeks, the best class wins some chocolates! Our Year 1 pupils have done really well, so you're never too young to start!
Having an Energy Team has been a great success. This is our third year and we are still learning and having fun.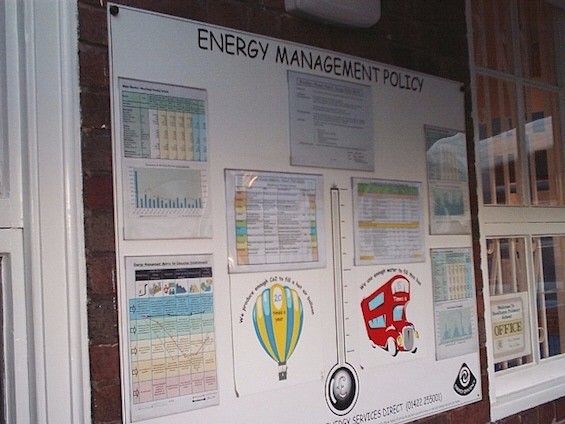 We have saved money and we understand loads more about how to save energy. Why don't you find out how much energy you can save where you are?
Energy is just one of the things we try to use wisely at Woodheys. We also have our Paper Team.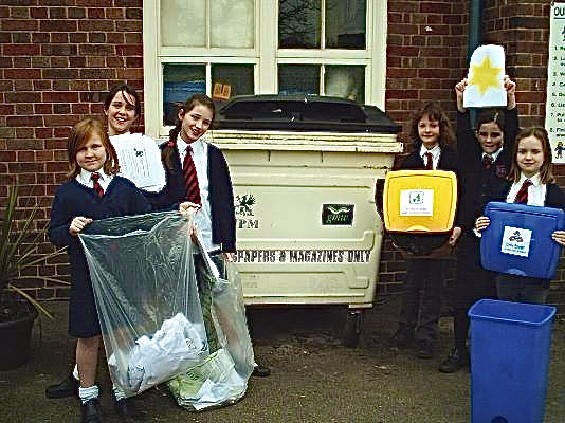 We all love trees, don't we? So, at Woodheys, we try to stop too many being cut down, by using paper as carefully as we can.
For example, nowadays we always buy recycled paper to use in school.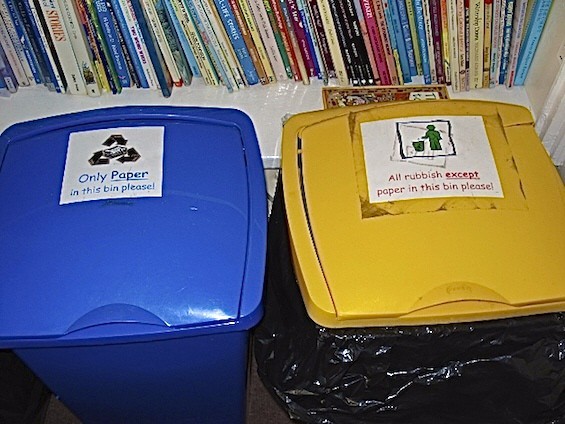 And, to collect our used paper, we have special paper bins in every classroom. We also have our own paper bank outside, which the council empties every fortnight.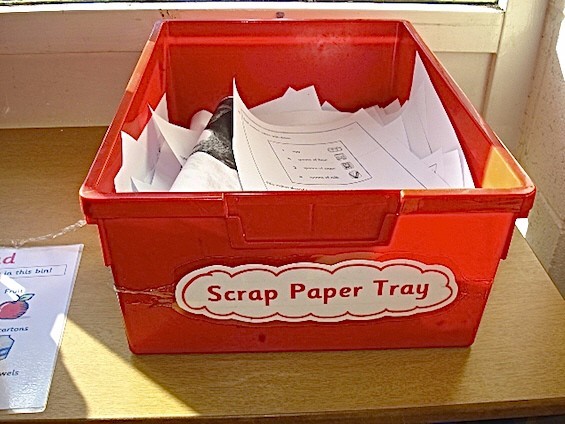 We ask everyone to make sure that they use every sheet of paper on both sides, before throwing it into the paper bin. We do our best to use our computer printer only for important things.
We have a special scrap paper tray or drawer in every classroom. Scrap paper can be used for things like working out sums in Maths, or for drawing on at wet playtimes.
The members of our Paper Team each look after one of the paper bins around school and they make sure it's emptied every week.
We really have cut down the amount of paper we use. Could you try to save a few trees every week, too?
Some kinds of paper in the wrong place become litter.
Even though we do our best to keep things tidy at school, we still have a small problem with litter in our school grounds.
So every now and again we have to talk rubbish, don't we?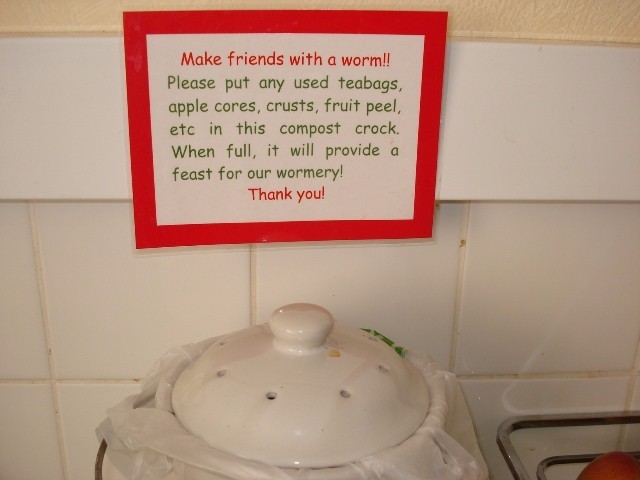 I'm afraid so! That's why we now have a regular litter patrol to stop things from getting out of hand.
I really wish we had no litter, but I suppose even the best-kept places can't stop the wind from blowing stuff around and, unfortunately, other people who visit our school don't always treat the place as well as we do.
The Litter Patrol has definitely helped to keep our grounds looking great, but just think – if everyone would use a bin or take their rubbish home, we might find ourselves with nothing to do!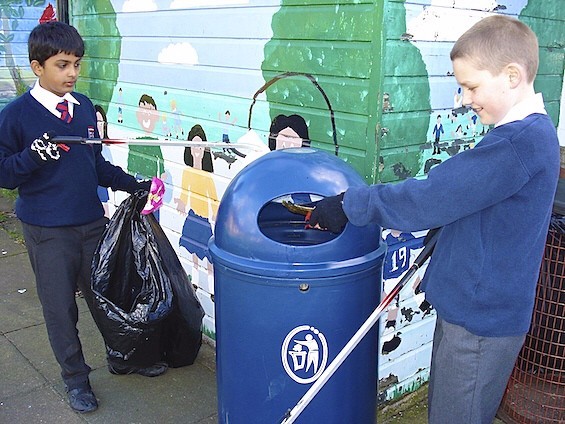 Well, that would give us more time to enjoy some of the special places in our school grounds, wouldn't it?
For years, the teachers at Woodheys had a dream of creating a wildlife area in our school grounds.
Then, thanks to Woodheys winning first prize in the David Bellamy Awards in 2005, the dream came true!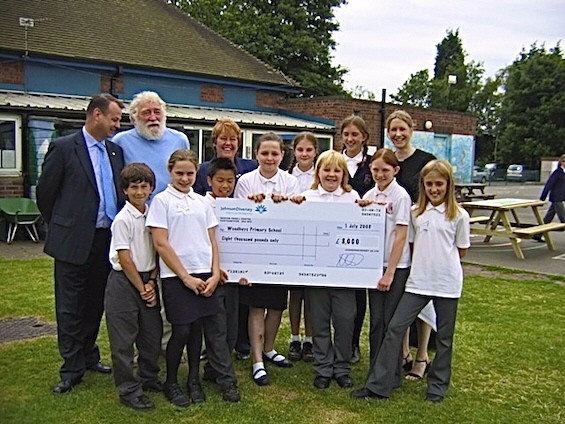 We now have a wild area with a pond, a log pile, bird feeders, nesting boxes, compost bins and a wildflower meadow. It's fantastic!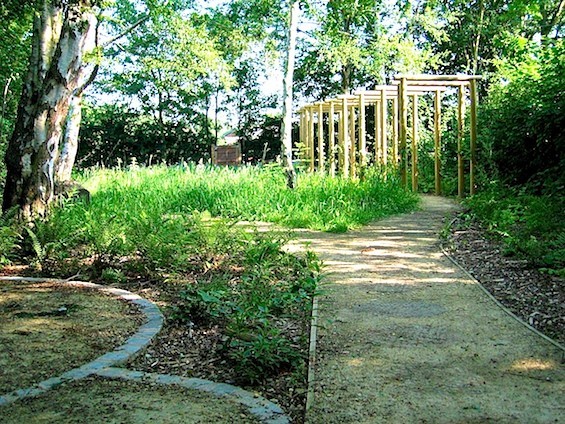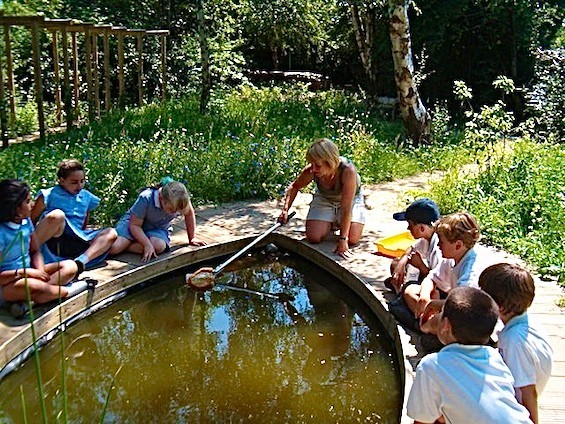 We can study minibeasts, pond life, insects and plants without leaving school. We even have our own resident hedgehogs!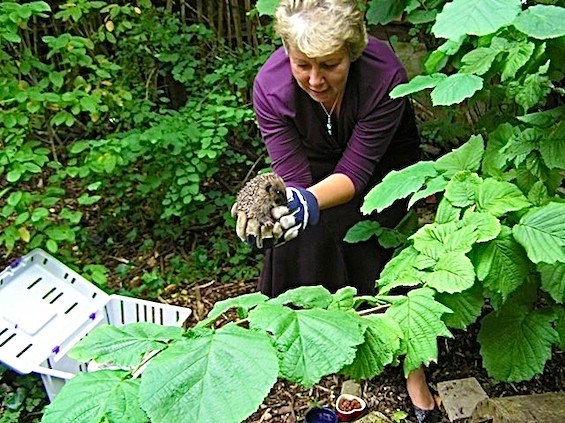 And it's a lovely quiet area just to sit in, when summer comes. It's really important to chill out now and again, isn't it? This year, we'll have another place to do this.
In 2007 we were lucky enough to win the Ashden Award for Sustainable Energy!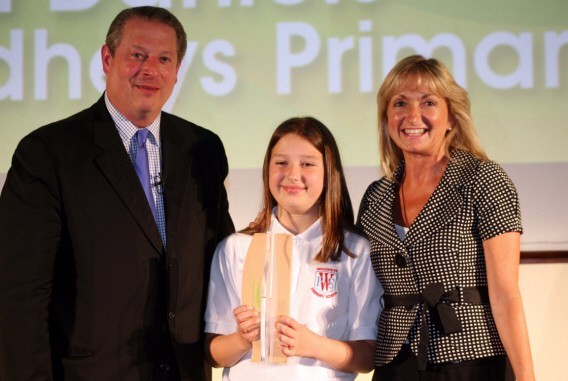 Al Gore, the former Vice President of the United States presented us with our prize. This gave us enough money to make another dream come true!
Mrs Daniels, our Head teacher, discovered that a lot of research has been done about labyrinths and how good they can be for helping people to find peace of mind and solve problems.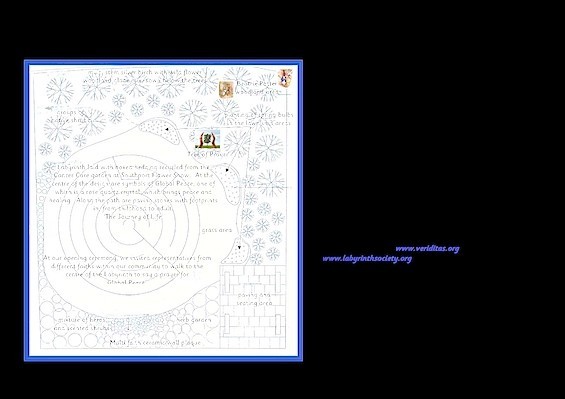 So we decided to have one in our grounds. It is going to be part of our new 'James Prescott Joule Positive Energy Garden'.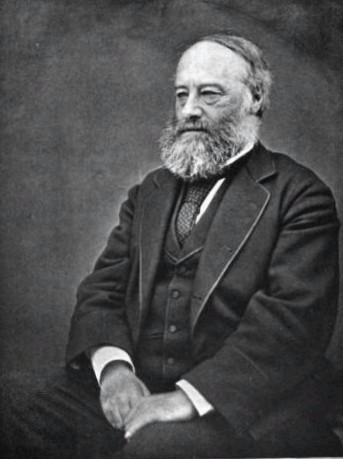 James Prescott Joule was a very famous 19th century scientist, who lived in Sale for the last 17 years of his life. He did a lot of work on energy and the 'kilojoule' is named in his honour.
Our labyrinth area is still under construction, but eventually we will have demonstration models showing different types of renewable energy, for example, solar power, hydro and wind power.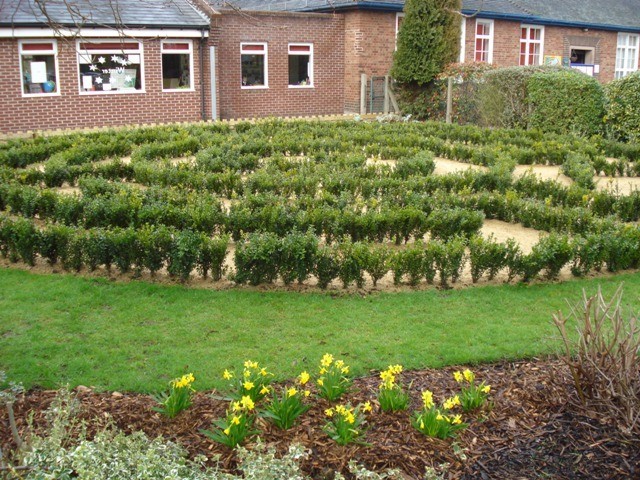 We will also have symbols of all the different major faiths in the labyrinth area, because we are very proud of the fact that about a third of our pupils come from a variety of different backgrounds and cultures.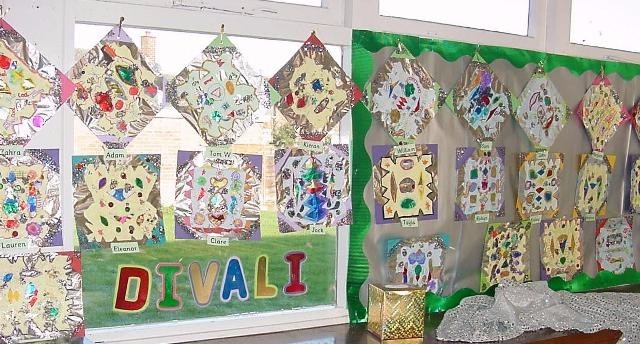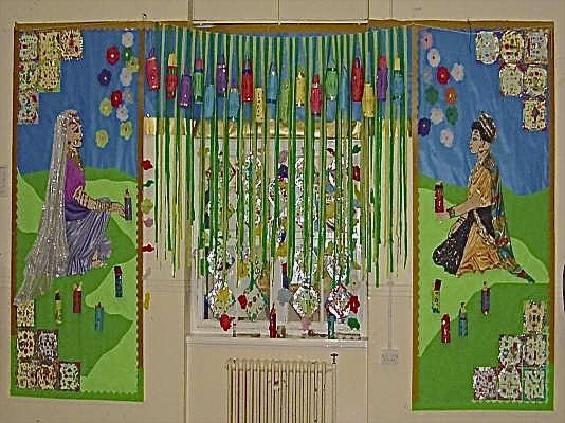 We really like the fact that we are like a tiny Commonwealth at Woodheys!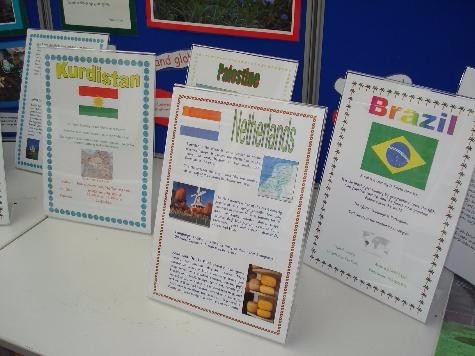 Our families are from China, from Uganda, from India, and from Kurdistan.
In fact, 2008 is a very important year for Woodheys School, because we are hoping to achieve International School status.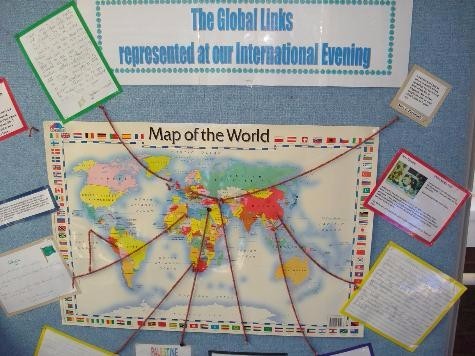 One of the best things we have done so far was an International Food Evening. We got to taste lots of delicious things from 20 different countries, all made by families at our school. Hope there's another one soon!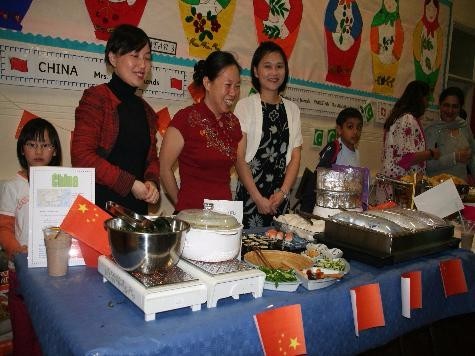 We love finding out about other places in the world. Mrs Daniels recently went to visit a school in Antigua and told us all about it.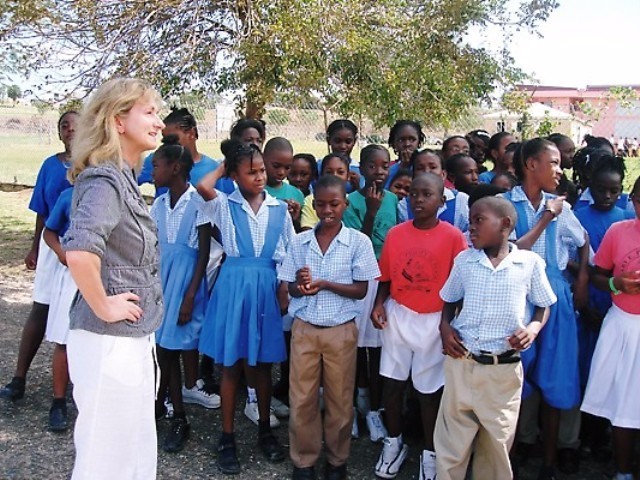 Through the Afritwin project, we are twinned with two schools in Durban in South Africa which, like Antigua, is another Commonwealth country.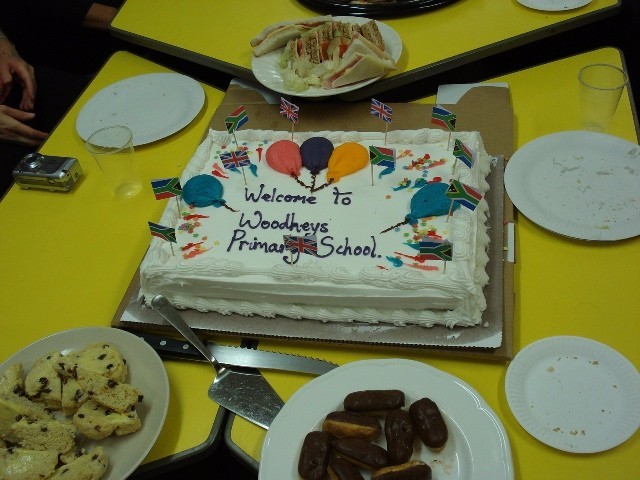 One of the schools is an all girls' school in a fairly rich neighbourhood and the other is in a Zulu township.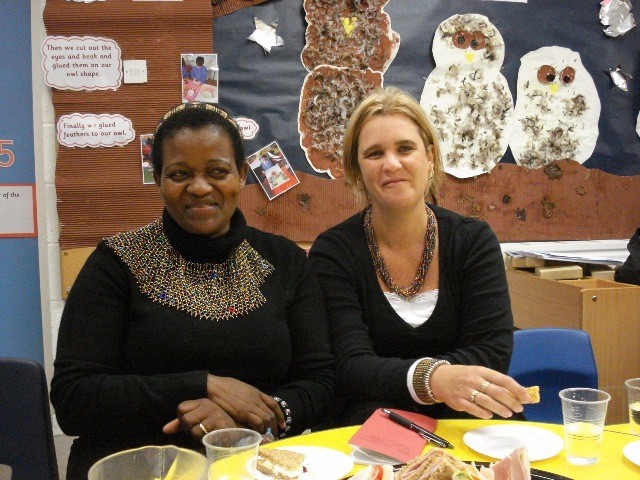 Mrs Radebe, the Head teacher of the Zulu school, visited us for two weeks in 2006.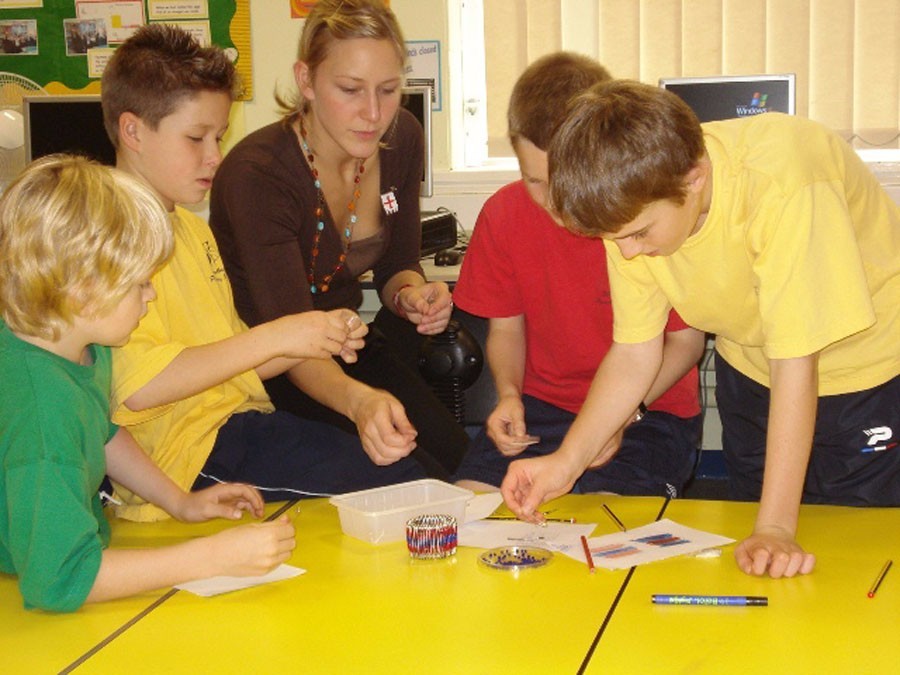 She showed us how to do some fantastic beadwork like this. She made it look easy, but it's really hard!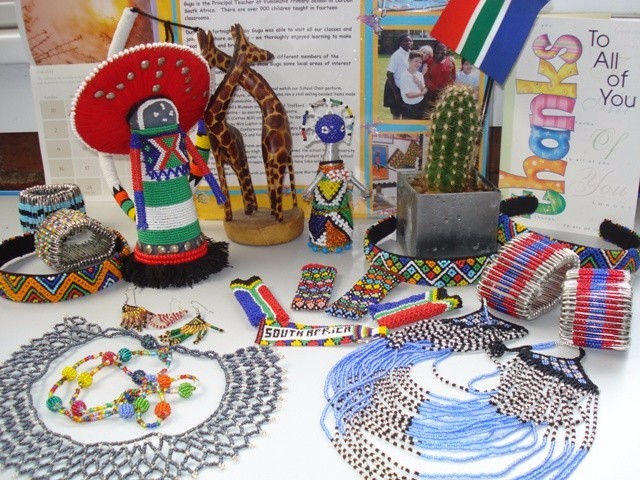 We now have a special Afritwin club during Tuesday lunchtimes. We use email and video cam links to talk directly to the children in Durban. It's very exciting to hear and see them!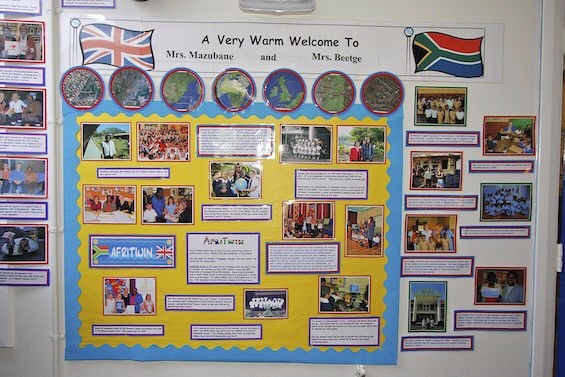 We are doing some special projects with the two Durban schools. For example, we have been researching our favourite playground games. We are going to make them into a pack which we can send over to them. In return, they will send us a selection of games which we can try out.
Playtimes will be even better then! We have already been doing a lot at Woodheys to improve them.
For example, we have just started a new scheme called 'PALS', which stands for Playground Activity Leaders.
There is now a team of children from Years 5 and 6 who have been specially trained to teach different activities and sort out any arguments. You can choose from lots of different things to do during playtimes now.
If you have lots of energy, you can have a go on the activity trail, the all-weather pitch, play basketball or football, or have a go at skipping.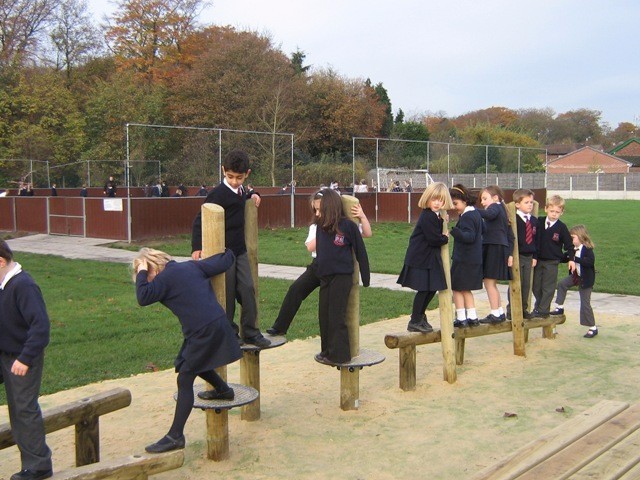 You can also choose to do something quiet, like reading or playing chess. There's really something for everyone!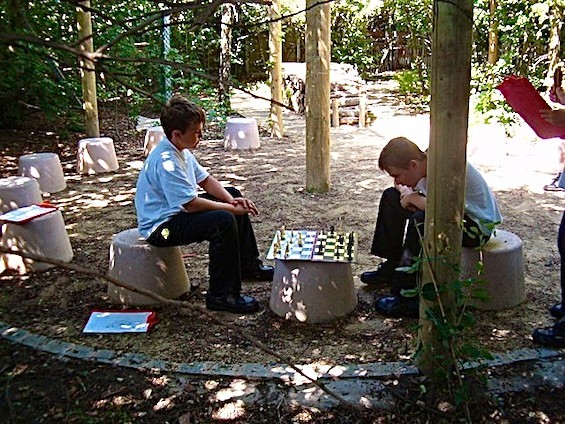 Well, we hope you have enjoyed learning all about Woodheys just as much as we have enjoyed learning about the Commonwealth.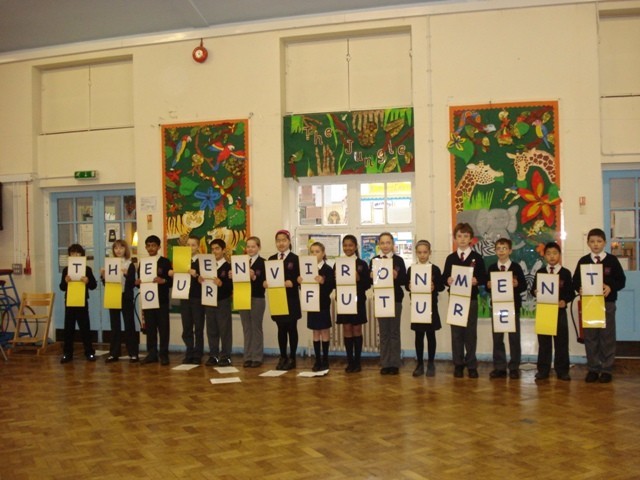 We are really trying our best to improve and look after our environment and hope we have inspired you to do the same, wherever you are!
And we definitely agree with the words of the 2008 Commonwealth theme
'THE ENVIRONMENT, OUR FUTURE'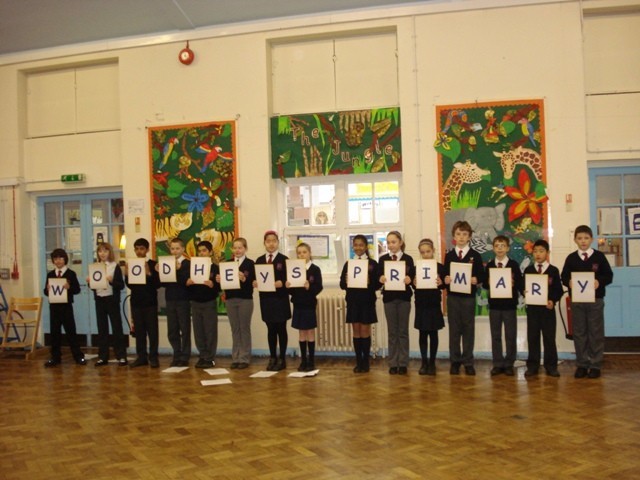 Laura Daniels' Presentation at the International Commonwealth Inter-parliamentary Conference at the Houses of Parliament, London, on November 29th, 2007

Good morning everyone. I am delighted and honoured to have been invited today and that the importance of education in this crisis has been recognised by the Commonwealth Parliamentary Association.
Behind me are images from Woodheys Primary School, showing our pupils at their best; taking pleasure in their environment. Attending this conference over the last few days has been a steep learning curve for me, but we are never too old to learn!
The repeated message is that the issue of Climate Change is the greatest challenge the world has ever known and that our Government has ever had to face. Therefore, it has to be the number one priority for education.
The Rt Hon Elliot Morley, MP, stated that "Each leader here has a responsibility to articulate the message to your section of the community." In Bali, there will be leaders – leaders from different countries like yourselves, leaders from business, leaders from different faiths. I hope that there are representatives from education?
I have heard the facts, I have heard some incredibly positive stories but, apart from the International Ashden Award winners, it all seems to be top down… In every country in the world hope needs to start from our own children. They are the future. Schools should be at the heart of sustainable communities. Education needs to be conscience- based and is the major factor in changing behaviour and the global mindset.
Phil Woolas, MP, said, "We have to act – act now!" Engaging the public and individuals will make a difference.
Al Gore, in his book written in 1992, 'Earth in the Balance: Ecology and the Human Spirit', recognised that we can have all the scientific facts, but the root of the global environmental crisis is lack of spirituality. He says that, "… with personal commitment, every individual can help ensure that dramatic change does take place."
David Viner from Natural England promotes "well-being and enjoyment; enjoying the natural environment". Glyn Davies from WWF spoke about "a future in which humans are living in harmony with nature." We need children and communities to engage with nature and care about it. Only then will behavioural patterns change.
Another theme throughout this conference has been 'adaptation' and 'following personal journeys'. Woodheys Primary School has moved from being perceived as 'slightly odd' and 'green' to having new staff specifically employed for their interest in environmental issues and to be nationally and internationally recognised for our environmental work.
As a school which has risen from 5% ethnicity to 37%, with 25% of children having English as an additional language, we have adapted. We are a popular, oversubscribed school with all our local cultures and faiths. What drives this popularity? Our environmental work and global links.
Through British Council grants, we are linked with two schools in Durban, South Africa.
The glue in this success is caring for the environment and this bonds individual faiths and communities, just as I am witnessing at this conference.
We have a common responsibility across cultures. Children must be taught values and choices – ethical and moral. We pledged to the Ashden Award judges that Woodheys would spend the prize money on inspiring others to commit to our global target and to sharing our good practice.
As Governor Schwarzenegger of California has stated, "If it's the right thing to do, we must do it." We speak regularly to school leaders and welcome visiting teachers, taken on tours of the school by our pupils. Our aim, whichever way we can do it, is to inspire action in education.
I genuinely believe that Woodheys is not doing anything that schools globally could not replicate as a basic requirement in every school. In fact, many schools are doing more than we are. Some head teachers' eyes will only light up when I talk about financial savings. Surely they get it, though? At the very least, the more we save on fuel costs, the more we have to spend on educational resources and staffing!
In the UK, head teachers are business leaders, running multi-million pound budgets.
Procurement is within their control, right down to obtaining quotes for double glazing, insulation and other energy saving measures. They should therefore be made aware of the same climate change statistics and rigorous targets being set globally for the business world and be statutorily required to achieve them!
Our job as educationalists is to inspire. Through our pupil-led environmental work, our whole school community is happier and more cohesive. Our pupils potentially could become future scientists, politicians, journalists or Heads of State who could go on to continue the necessary good work.
In June we met Al Gore and in my acceptance speech for our Ashden Award I said, "Education is the key to the future survival of Gaia – Mother Earth. Our pupils must be committed to the United Nations eight millennium goals, particularly goals 7 and 8, 'ensuring environmental sustainability' and 'creating global partnerships for development'.
A tipping point has been reached and at this time of evolution and revolution, the positive energy being activated all over the world by conferences like this [and in Bali], by incentives like the Ashden Awards and by leaders like Al Gore [Governor Schwarzenegger and Jonathon Porrit] is truly inspirational." We have to take that enthusiasm back to our own educational systems and ignite their passion and conscience.
I hope that all the international delegates here have realised, as I have, that we are all part of a global team and, as the pupils at Woodheys chant, "Together, Everyone Achieves More."

After its success in securing the Ashden Award for Sustainable Schools, Sale´s Woodheys primary school addressed the international Parliamentary Conference on Climate Change in November 2007.
Run by the UK branch of the Commonwealth Parliamentary Association, it looked at the responsibility of parliamentarians to reducing the risks and managing the impacts of climate control. They were joined by MP´s, Peers and other interest groups.
Speaking to over 60 parliamentarians from over 20 commonwealth countries is something the school is excited about.
"This show the importance of the work we have carried out. We´re all committed to acting as ambassadors, playing our part in including environmental and climate issues in our day to day school life and in promoting environmental issues.
"The school should be extremely proud of its achievements. The presentation was one that has gone down in the school´s history."
The school´s pioneering environmental work has already seen it work with various environmental experts, including the World Wildlife Fund, to develop curriculum based sessions focussing on energy use.
Executive Councillor Ian Mullins added his congratulations: "Woodheys is leading the way and getting the message across that the environment is something we are all responsible for. By working together and individually, we can all do our bit to protect our resources and local environment for this and future generations," he said.

Other International Links Around the School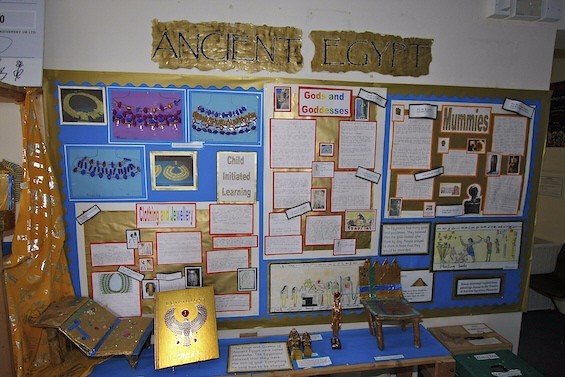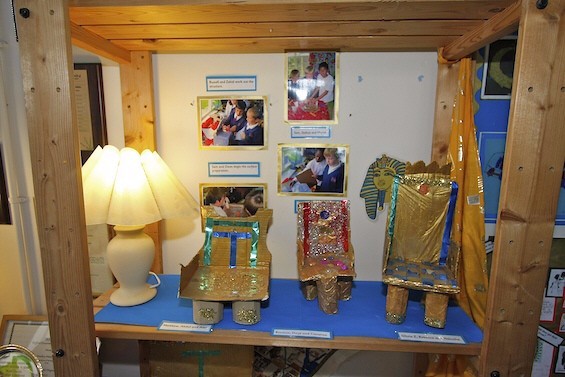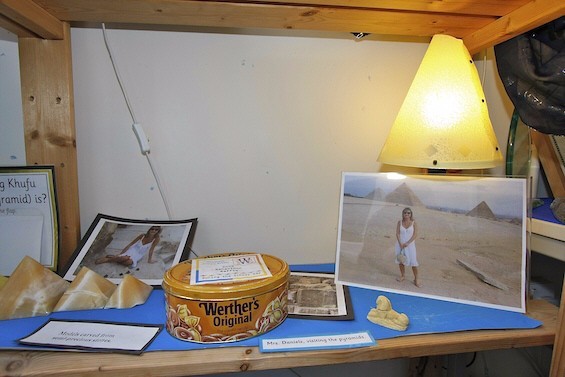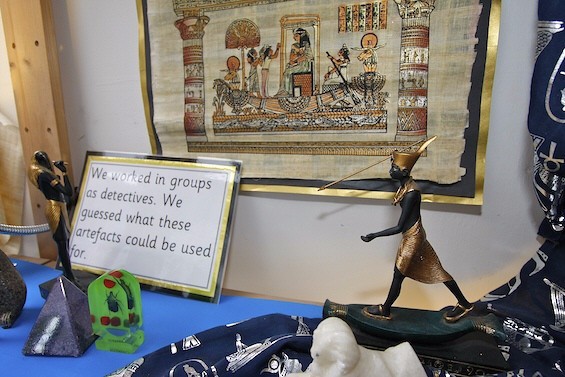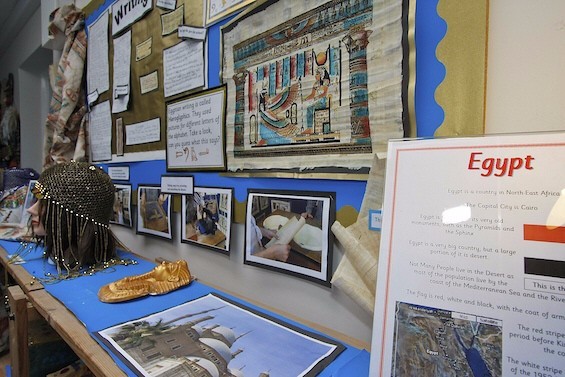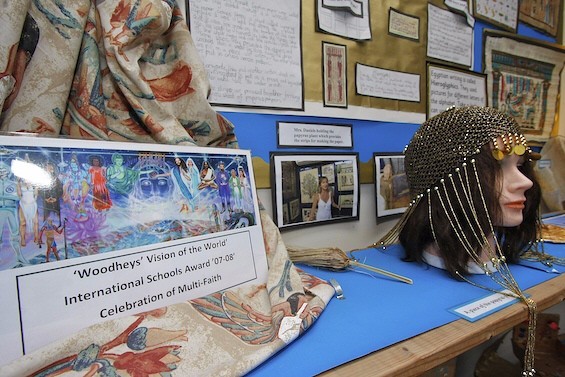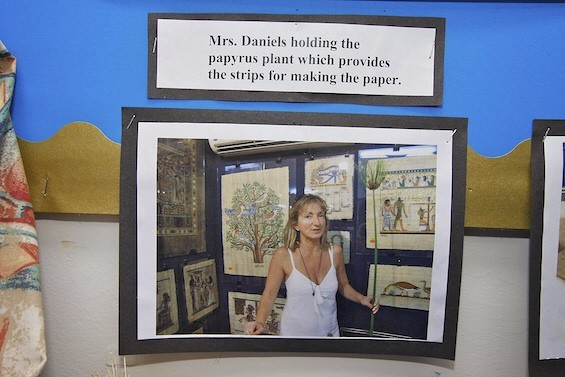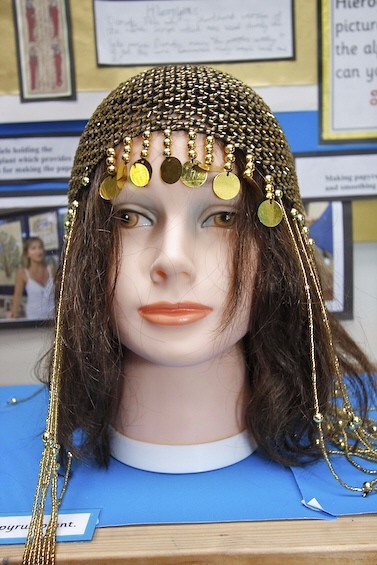 Ancient Egypt
The ancient Egyptian civilisation first began in 10,000 BC and was at its most powerful in 1400 BC. Ancient Egypt is famous for its magnificent pyramids. The first pyramid was completed in 2630 BC. Pyramids were used as tombs for when the Pharaohs died. The Pharaohs ruled Egypt. The Egyptians believed in a number of Gods along with life after death, so when people died their bodies would be preserved to enable them to live for ever. The bodies would be wrapped in bandages, creating 'mummies'. The first pyramids had steps which meant that the spirits of the dead Pharaohs could climb the steps in order to reach the sun god. However, the pyramids were raided as they contained jewels and other valuables. Because of this the Egyptians began to make the Pharaohs tombs in hidden unmarked areas which they guarded in order to prevent this from happening. The tombs were highly decorated inside. The walls were covered in paintings and hieroglyphics. Hieroglyphics are what the Egyptians developed and used in order to write with. Hieroglyphics were first created in 3000 BC. Hieroglyphics look like pictures or symbols but are used to spell words which form sentences. The use of hieroglyphics was lost when the ancient Egyptian civilisation was conquered. This meant that historians had to study them and work out what the hieroglyphics meant. This took a long time as it was a complex process